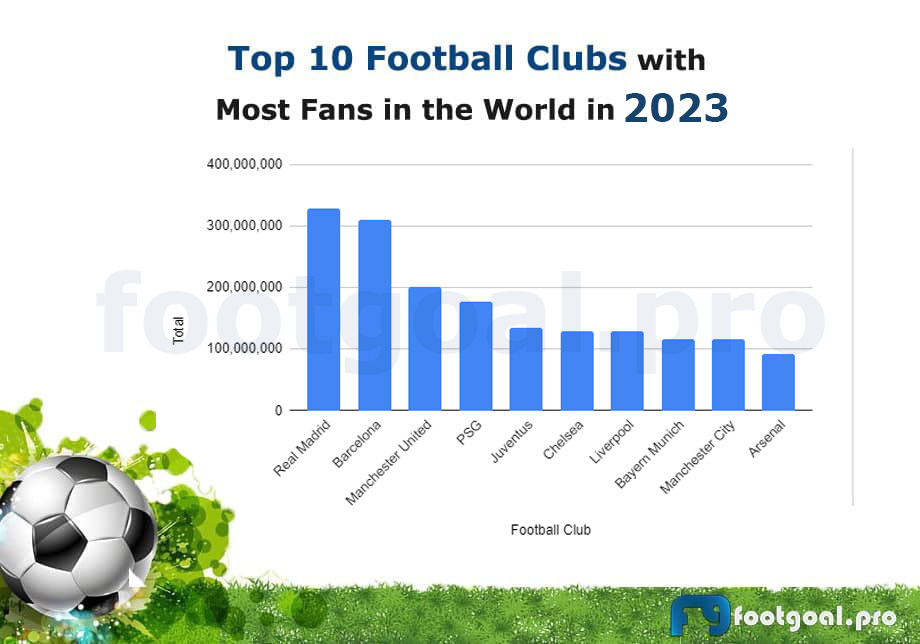 Top 10 Football Clubs with Most Fans in the World in 2023 (Updated) 
footgoal, 2 years ago
40
3 min

read
157852
Top 10 Football Clubs with Most Fans in the World in 2023 (Updated)
Top 10 Football Clubs with Most Fans in the World in 2023
Football is the most popular sport, billions of fans around the world watch and support it. Fans show their support also on social media by following different football clubs.
We are presenting you the football clubs that are most followed in social media platforms around the world.
So, what is the number one football team by followers on social media?
The answer is Real Madrid!
Like in 2021 and 2022, also this year Real is the most followed football club in the world. Overall, the top 10 teams are the same as in 2021 and 2022. There are only several changes in positions.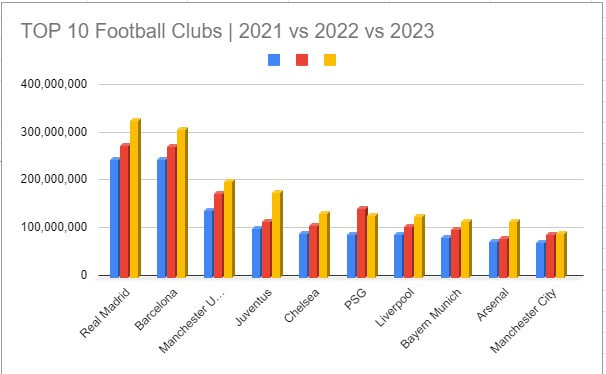 Let's have a detailed look at the football clubs with the most fans in the world in 2023. Counting the number of fans, we have considered the social media fan following of the clubs.
Here are the results: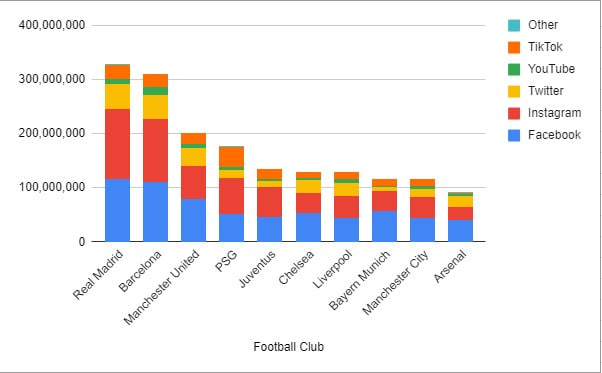 1. Real Madrid
Facebook: 115,77 M
Instagram: 130 M
Twitter: 46,3 M
YouTube: 9,14 M
TikTok: 25,1 M
Others: 2,8 M
Total: 329,11 M
2. Barcelona
Facebook: 110,7 M
Instagram: 116 M
Twitter: 45,8 M
YouTube: 14,4 M
TikTok: 24,4 M
Other: 97,8 K
Total: 311,4 M
3. Manchester United
Facebook: 79,6 M
Instagram: 60,5 M
Twitter: 34,5  M
YouTube: 7,18 M
TikTok: 20,2 M
Other: 293 K
Total: 202,28 M
4. PSG
Facebook: 51,5 M
Instagram: 67,1 M
Twitter: 13,7 M
YouTube: 6,71 M
TikTok: 37,2 M
Other: 1,68 M
Total: 177,9 M
5. Juventus
Facebook: 45,9 M
Instagram: 56,4 M
Twitter: 10 M
YouTube: 3,8 M
TikTok: 19,2 M
Other: 229 K
Total: 135,5 M
6. Chelsea FC
Facebook: 52,9 M
Instagram: 37,3 M
Twitter: 23,7 M
YouTube: 4,1 M
TikTok: 12,2 M
Total: 130,2 M
7. Liverpool FC
Facebook: 44,2 M
Instagram: 41,2 M
Twitter: 23,2 M
YouTube: 8 M
TikTok: 12,1 M
Other: 230 K
Total: 128,9 M
8. FC Bayern Munich
Facebook: 58 M
Instagram: 36,1 M
Twitter: 6.6 M
YouTube: 3,1 M
TikTok: 13,3 M
Other: 120 K
Total: 117,25 M
9. Manchester City
Facebook: 44,9 M
Instagram: 38 M
Twitter: 14,8 M
YouTube: 5,42 M
TikTok: 13,8 M
Other: 124 K
Total: 117 M
10. Arsenal
Facebook: 40,4 M
Instagram: 24,2 M
Twitter: 21 M
YouTube: 3,1 M
TikTok: 2,9 M
Other: 167 K
Total: 91,6 M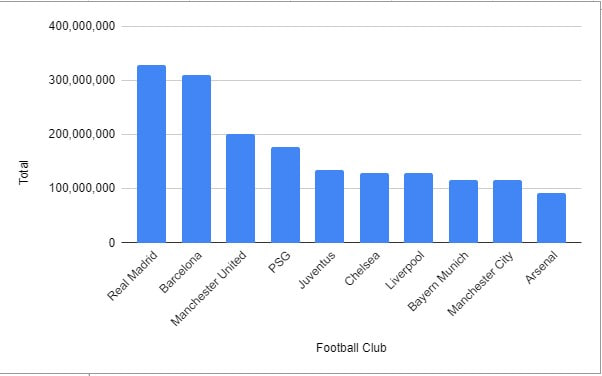 Top 10 Football Clubs with Most Fans in the World in 2023: Total Results
Real Madrid – 277,7 M
Barcelona – 275,12 M
Manchester United – 175,9 M
PSG – 144,56 M
Juventus – 117,2 M
Chelsea – 110,22 M
Liverpool – 106,85 M
Bayern Munich – 100,23 M
Manchester City – 90,65 M
Arsenal – 82,5 M
Check out also:
100 Most Searched Football Players on Google in 2021
100 Most Searched Football Clubs on Google in 2021
Top 10 Football Players with Most Fans in the World in 2021
Top Champions League 2021-2022 Football Clubs with Most Fans in the World
Top 10 Premier League Football Clubs with Most Fans in the World in 2021
Top 10 Bundesliga Football Clubs with Most Fans in the World in 2022
Top 10 Ligue 1 Football Clubs with Most Fans in the World in 2022
Top 10 La Liga Football Clubs with Most Fans in the World in 2022
Top 10 Serie A Football Clubs with Most Fans in the World in 2022
Related posts