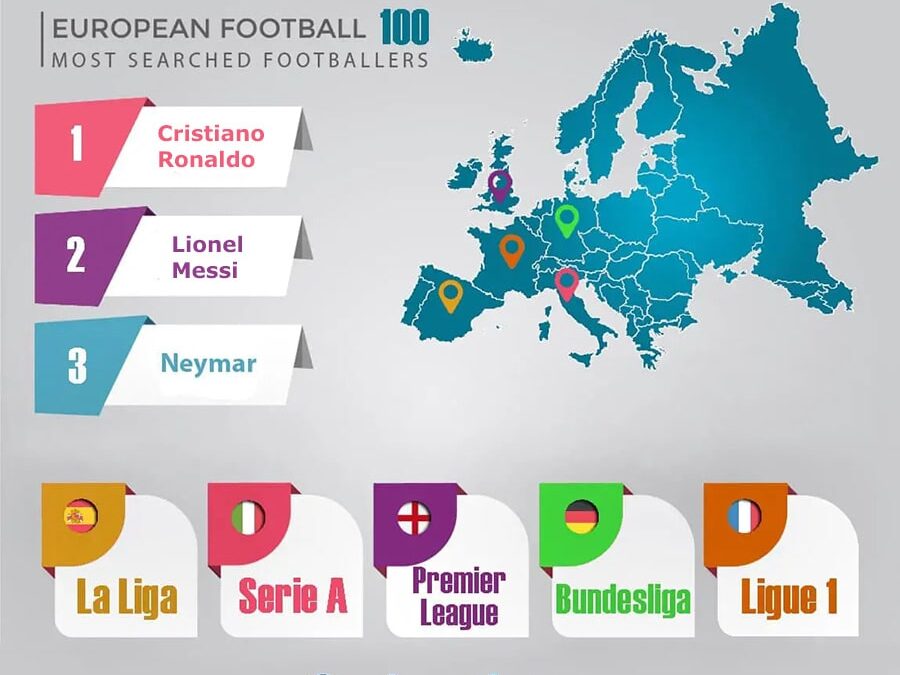 100 Most Searched Football Players on Google in 2023 (Updated)
footgoal, 2 years ago
1
3 min

read
18530
100 Most Searched Football Players on Google in 2023
Have you ever wondered which football players are the most searched on Google?
If yes, then you are in the right place to find it out. We, Footgoal.pro, are presenting the list of top 100 searched footballers on Google (Important Note: Only the most searched version of each football player is considered. We have used KWFinder, one of the best SEO tools to check search volume).
To find out the top searches in Google, we have considered the top 5 European Leagues' players (Premier League, Serie A, La Liga, Bundesliga and Ligue 1).
So..
Who is the most searched football player on Google in 2023?
The answer is Cristiano Ronaldo.
If in 2021, Neymar was the most searched footballer on Google, and last year Messi was the 1st, this year Cristiano Ronaldo surpassed both and is the first in the list.
Currently, people search for "Cristiano Ronaldo" on average 17,600,000 times per month. Cristiano Ronaldo is also the most followed football player on social media, with more than 800 million followers. You can see the top 10 most followed football players here!
Lionel Messi is the 2nd most searched footballer. People search for "Messi" on average 14,500,000 times per month.
In the 3rd place comes Neymar with 10,100,000 monthly searches on average.
Next comes Kylian Mbappe, the best football player nowadays, with 9,070,000 average monthly searches.
Don't miss out on the opportunity to showcase your brand and reach a wider audience – order your guest post today by clicking here!
100 Most Searched Football Players on Google in 2023
Here is the complete list of 100 most searched football players on Google in 2023.
| | |
| --- | --- |
| Keyword | Average Monthly Search |
| Cristiano Ronaldo | 17,600,000 |
| Messi | 14,500,000 |
| Neymar | 10,100,000 |
| Mbappe | 9,070,000 |
| Lewandowski | 3,360,000 |
| Benzema | 3,110,000 |
| Pique | 2,390,000 |
| Dybala | 2,220,000 |
| Luis Suarez | 1,780,000 |
| Sadio Mane | 1,710,000 |
| Pogba | 1,480,000 |
| Luka Modric | 1,420,000 |
| Gareth Bale | 1,410,000 |
| Harry Maguire | 1,340,000 |
| Sergio Ramos | 1,340,000 |
| Frenkie De Jong | 1,320,000 |
| Gabriel Jesus | 1,280,000 |
| Ibrahimovic | 1,230,000 |
| Marcelo | 1,130,000 |
| Salah | 1,110,000 |
| Lukaku | 1,070,000 |
| Kevin De Bruyne | 1,060,000 |
| Olivier Giroud | 1,050,000 |
| Phil Foden | 1,040,000 |
| Eden Hazard | 1,020,000 |
| Griezmann | 983,000 |
| Erling Haaland | 856,000 |
| Alexis Sanchez | 848,000 |
| Icardi | 840,000 |
| Toni Kroos | 794,000 |
| Lautaro Martinez | 789,000 |
| Memphis Depay | 785,000 |
| Pedro | 765,000 |
| Manuel Neuer | 758,000 |
| Isco | 718,000 |
| Thiago Silva | 712,000 |
| Bernardo Silva | 705,000 |
| Kai Havertz | 703,000 |
| Mason Mount | 702,000 |
| Adama Traore | 632,000 |
| Keylor Navas | 605,000 |
| Christian Eriksen | 592,000 |
| Marquinhos | 587,000 |
| Hugo Lloris | 580,000 |
| Dele Alli | 568,000 |
| Thibaut Courtois | 532,000 |
| Ben Foster | 529,000 |
| Thomas Müller | 509,000 |
| Edinson Cavani | 484,000 |
| Theo Hernandez | 463,000 |
| Leandro Paredes | 451,000 |
| Jorginho | 446,000 |
| Arturo Vidal | 444,000 |
| Riyad Mahrez | 439,000 |
| Renato Sanches | 430,000 |
| Jadon Sancho | 429,000 |
| Reece James | 386,000 |
| Jordi Alba | 383,000 |
| Sergio Busquets | 358,000 |
| Roberto Firmino | 348,000 |
| Marco Reus | 329,000 |
| Sergio Aguero | 324,000 |
| Aaron Ramsey | 316,000 |
| David Alaba | 315,000 |
| Jesse Lingard | 313,000 |
| Hirving Lozano | 312,000 |
| Philippe Coutinho | 309,000 |
| Casemiro | 299,000 |
| Xavi Simons | 298,000 |
| Anthony Martial | 295,000 |
| Fernandinho | 292,000 |
| Rodrigo | 290,000 |
| Loris Karius | 273,000 |
| Tammy Abraham | 271,000 |
| David De Gea | 270,000 |
| Riqui Puig | 258,000 |
| Jamie Vardy | 256,000 |
| Joshua Kimmich | 246,000 |
| John Stones | 243,000 |
| David Silva | 230,000 |
| Kingsley Coman | 229,000 |
| Neto | 218,000 |
| Mats Hummels | 209,000 |
| Rafinha | 207,000 |
| Lucas Hernandez | 190,000 |
| Ciro Immobile | 183,000 |
| Lorenzo Insigne | 177,000 |
| Jota | 167,000 |
| Marcos Llorente | 160,000 |
| Jerome Boateng | 159,000 |
| Thorgan Hazard | 146,000 |
| Merih Demiral | 111,000 |
| Dani Olmo | 92,100 |
| Joao Felix | 71,500 |
| Alphonso Davies | 44,600 |
| Kyle Walker | 24,200 |
| Christian Pulisic | 22,600 |
| Serge Gnabry | 22,500 |
| Bruno Fernandes | 18,000 |
| Ousmane Dembele | 16,000 |
Check out also:
100 Most Searched Football Clubs on Google in 2023
Top 10 Football Players with Most Fans in the World in 2023
Top 10 Football Clubs with Most Fans in the World in 2023
Top Champions League 2021-2022 Football Clubs with Most Fans in the World
Most Searched EURO 2020 Winner Italy Players on Google in 2021
Top 10 Premier League Football Clubs with Most Fans in the World in 2023
Related posts