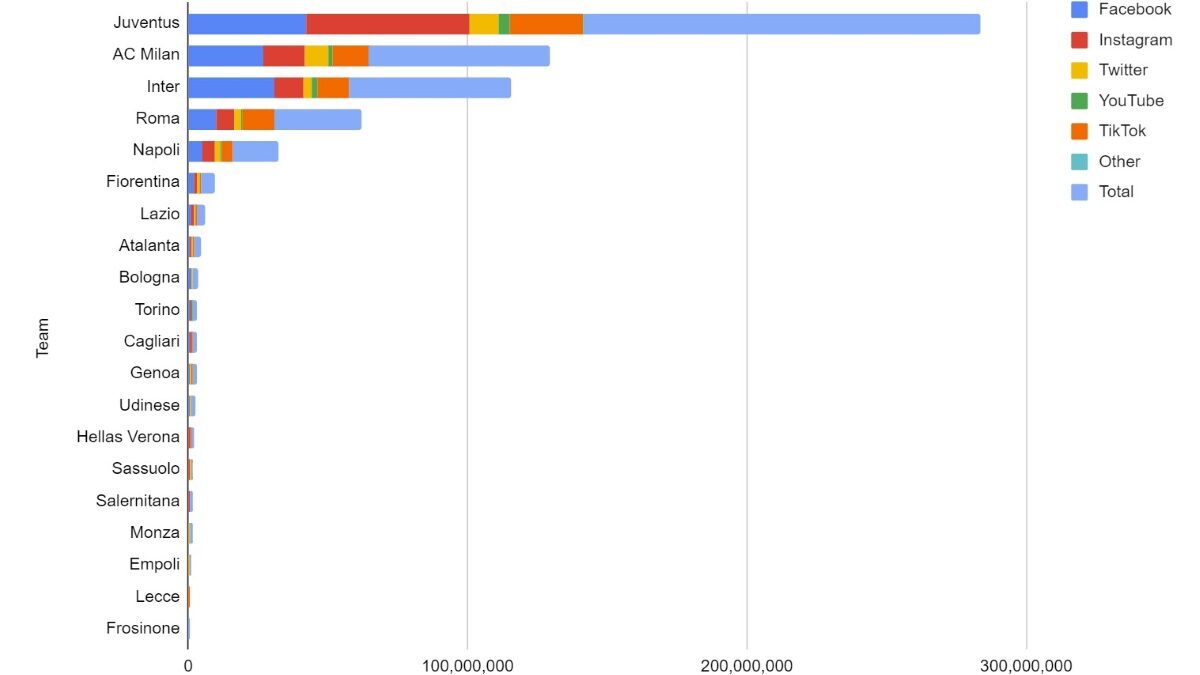 Top 10 Serie A Football Clubs with Most Fans in the World in 2023
Top 10 Serie A Football Clubs with Most Fans in the World in 2023
Serie A is considered one of the TOP 3 football leagues in the world. Millions of fans support it around the world. They show their support also on social media by following different Serie A football clubs.
Today, we are presenting you the Serie A football teams that are most followed in social media platforms worldwide.
So, which Serie A team has the most followers on social media?
The answer is Juventus, with over 141 million followers on social media!
Like in 2022, 2-time UEFA Champions League winner, Italy's most successful club of the 20th century and one of the most successful football clubs in the world, Juventus is the most popular football club in Serie A with more than 142 million followers on social media platforms. Juventus is the only football team that has won all possible men's professional club competitions.
Let's have a detailed look at the Serie A 2023-2024 season football teams with the most fans in the world in 2023. Counting the number of fans, we have considered the social media fan following of the clubs.
Here are the results:
Compared to the 2022 results, the teams haven't changed and kept their positions. Here is the TOP 10 Serie A teams by followers: 2022 vs 2023 comparison: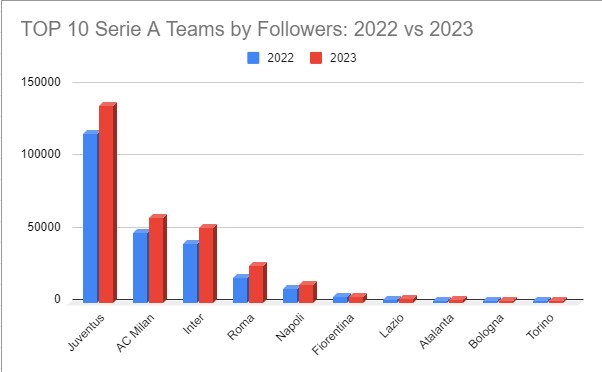 Don't miss out on the opportunity to showcase your brand and reach a wider audience – order your guest post today by clicking here!
1. Juventus FC
Facebook: 42 M
Instagram: 58,8 M
Twitter: 10,1 M
YouTube: 4,2 M
TikTok: 26,5 M
Other: 218,5 K
Total: 141,8 M
2. AC Milan
Facebook: 27 M
Instagram: 14,7 M
Twitter: 8,5 M
YouTube: 1,42 M
TikTok: 12,9 M
Other: 211 K
Total: 64,7 M
3. Inter FC
Facebook: 31 M
Instagram: 10,2 M
Twitter: 3 M
YouTube: 2 M
TikTok: 11,3 M
Others: 251,6 K
Total: 55,75 M
4. Roma AS
Facebook: 10 M
Instagram: 6,4 M
Twitter: 2,3 M
YouTube: 690 K
TikTok: 11,5 M
Other: 23 K
Total: 31 M
5. Napoli
Facebook: 4,9 M
Instagram: 4,5 M
Twitter: 2,1 M
YouTube: 275 K
TikTok: 4,3 M
Other: 32,5 K
Total: 16,1 M
6. Fiorentina
Facebook: 2 M
Instagram: 1,1 M
Twitter: 739 K
YouTube: 78,7 K
TikTok: 681,6 K
Other: 70 K
Total: 4,71 M
7. Lazio
Facebook: 1 M
Instagram: 1 M
Twitter: 685,2 K
YouTube: 114 K
TikTok: 230 K
Other: 52,5 K
Total: 3,1 M
8. Atalanta
Facebook: 560 K
Instagram: 614 K
Twitter: 464,3 K
YouTube: 80,4 K
TikTok: 609 K
Other: 10 K
Total: 2,34 M
9. Bologna
Facebook: 1 M
Instagram: 190 K
Twitter: 193,8 K
YouTube: 68,2 K
TikTok: 367,5 K
Other: 3 K
Total: 1,83 M
10. Torino
Facebook: 491 K
Instagram: 398 K
Twitter: 448 K
YouTube: 41,3 K
TikTok: 238,5 K
Other: 5,9 K
Total: 1,62 M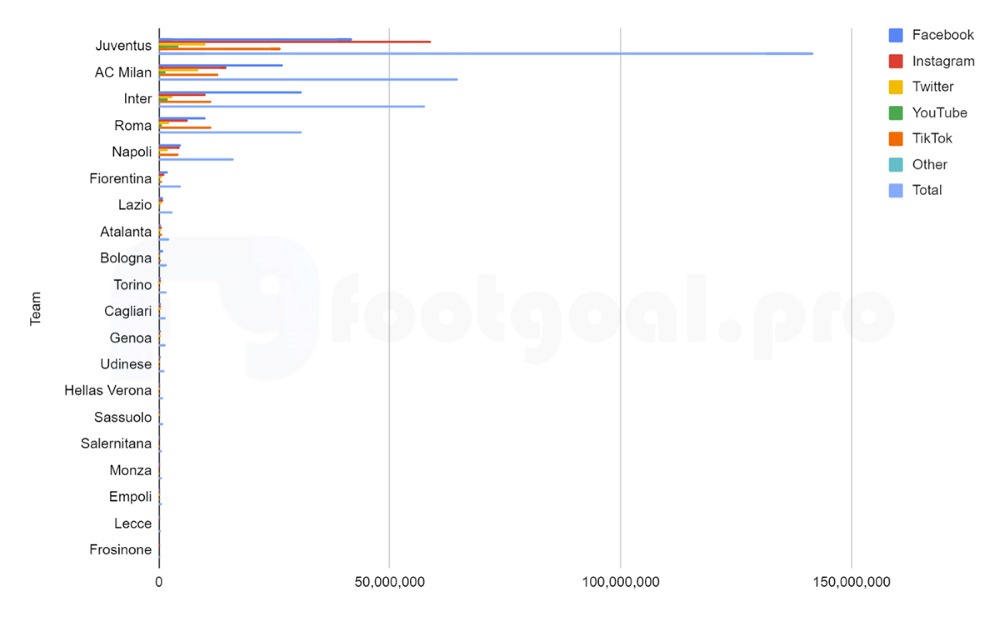 Top 10 Serie A Football Clubs with Most Fans in the World in 2023: Total Results
Serie A 2022-2023 season all 20 football clubs on social media by followers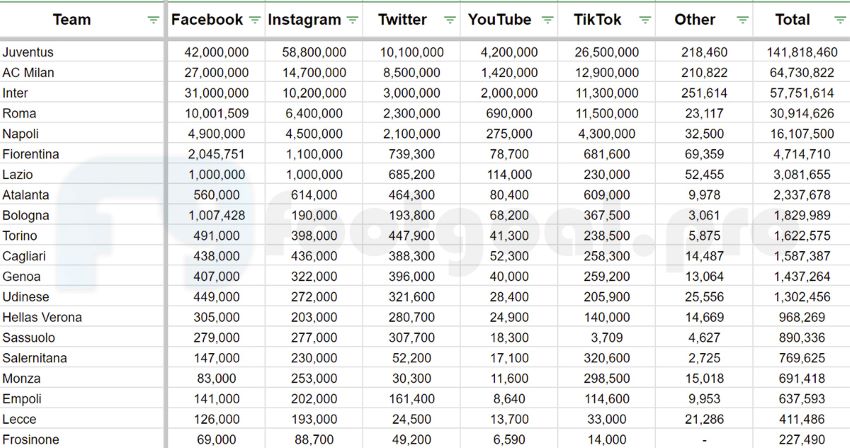 Juventus – 142 M
AC Milan – 64,7 M
Inter – 57,75 M
Roma – 31 M
Napoli – 16,1 M
Fiorentina – 4,7 M
Lazio – 3,1 M
Atalanta – 2,34 M
Bologna – 1,83 M
Torino – 1,6 M
Cagliari – 1,6 M
Genoa – 1,44 M
Udinese – 1,3 M
Hellas Verona – 968 K
Sassuolo – 890 K
Salernitana – 770 K
Monza – 691 K
Empoli – 638 K
Lecce – 411,5 K
Frosinone – 227,5 K
Check out also:
Top 10 Football Clubs with Most Fans in the World in 2023 (Updated)
Top Champions League 2021-2022 Football Clubs with Most Fans in the World
Top 10 Bundesliga Football Clubs with Most Fans in the World in 2023
Top 10 Ligue 1 Football Clubs with Most Fans in the World in 2023
Top 10 La Liga Football Clubs with Most Fans in the World in 2023
Top 10 Premier League Football Clubs with Most Fans in the World in 2023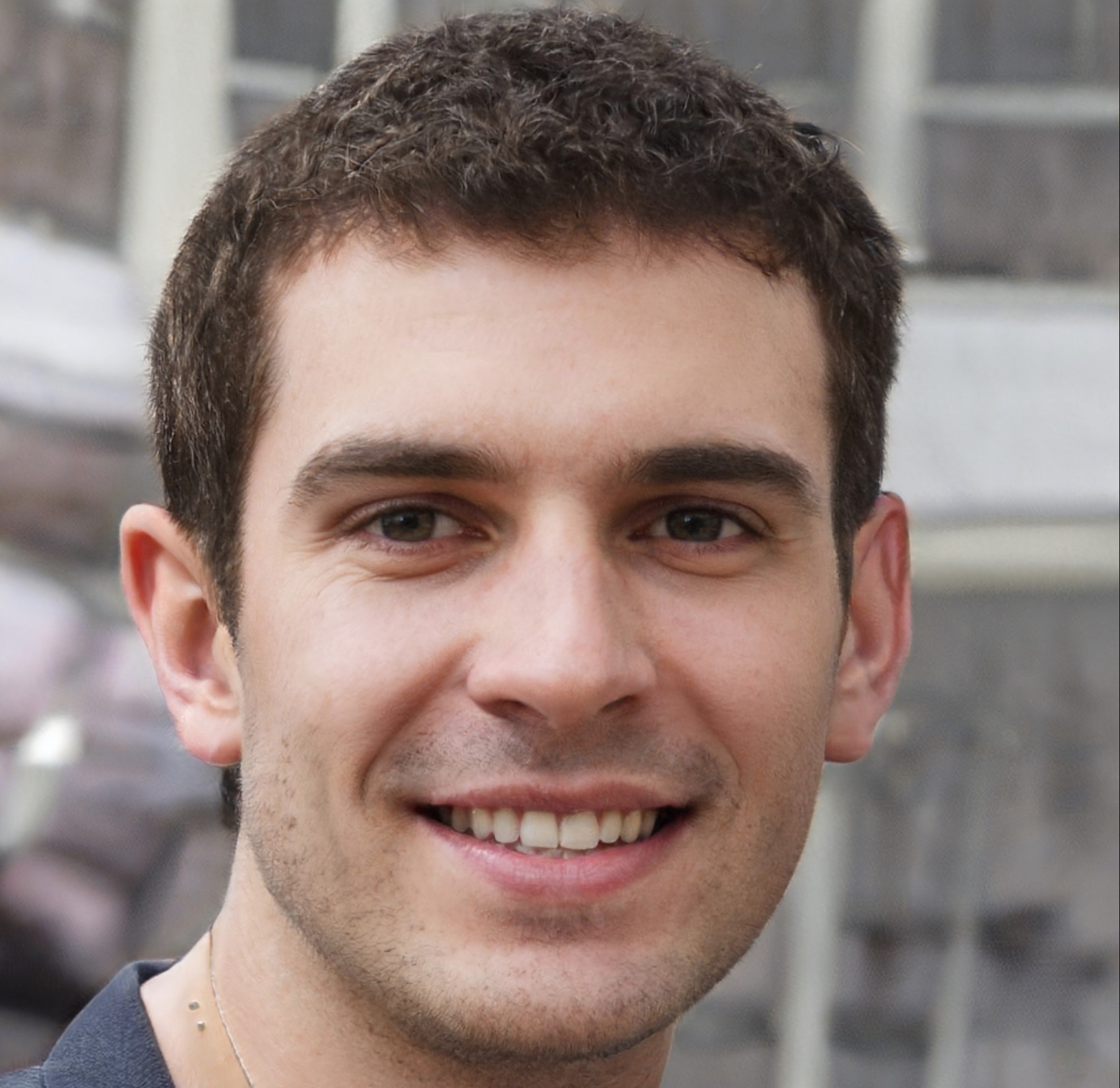 Marco Rossi
Hey guys! I'm Marco Rossi, your spirited guide through the captivating world of Italian football. Picture this: a family man from the lively city of Bergamo, just a stone's throw away from Milan, with two amazing kids, an amazing wife, and a four-legged sidekick named Nesta, paying homage to the legendary Alessandro Nesta.

I am a passionate and dedicated sports journalist with a decade of experience covering the vibrant world of Italian football and beyond. My journey in sports journalism is a family legacy, with a deep-rooted passion passed down from my grandfather. Alma Mater Studiorum - Università di Bologna has equipped me with the skills to navigate the dynamic field of sports reporting.

As we dive into the football chatter, know that my love for the beautiful game extends beyond the pitch. Whether I'm cheering from the stands of local matches in Bergamo or embarking on special journeys to Milan and other cities for those must-watch games, my passion for Italian football is as boundless as the enthusiasm of a kid in a candy store.

What sets my writing apart is the fusion of wit, humor, and a laid-back conversational style. I'm not here to investigate the game; I'm here to invite you into my world, where football isn't just a sport but a way of life.

So, come along on this journey through the triumphs and tribulations of Italian football. My articles aren't just analyses; they're heart-to-heart chats with a friend who shares your love for the game.

Want to keep the banter going?

Connect with me on LinkedIn, and let's continue celebrating the magic of Italian football together.
Related posts