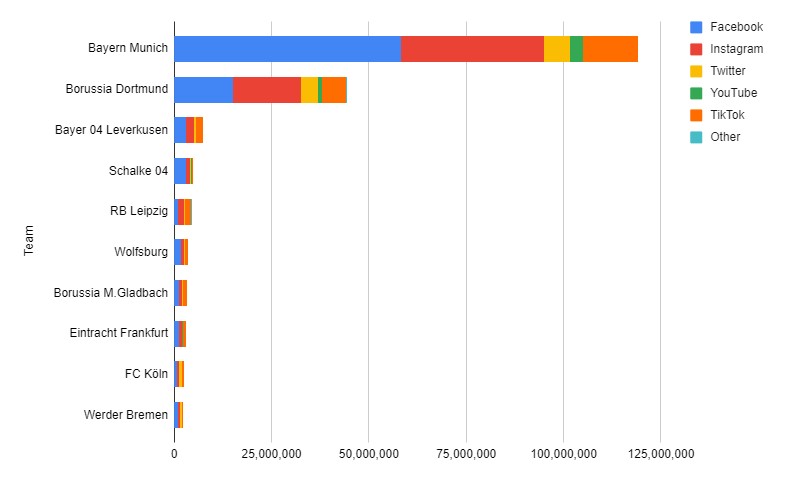 Top 10 Bundesliga Football Clubs with Most Fans in the World in 2023 (Updated)
Top 10 Bundesliga Football Clubs with Most Fans in the World in 2023
Bundesliga is considered one of the TOP 5 football leagues in the world. Millions of fans support it, showing their support not only in the stadiums, but also on social media by following their favorite Bundesliga teams.
Today, we are presenting you the Bundesliga football clubs that are most followed in top social media platforms worldwide.
So, which Bundesliga team has the most followers on social media?
The answer is Bayern Munich!
Like in 2022, also this year, Bayern Munich is the most followed club on social media platforms, with more than 119 million followers. That's about 20 million more than last year.
Next comes Borussia Dortmund with more than 44 million fans, that's about 4 million more followers than in 2022.
Let's have a detailed look at the Bundesliga football clubs with the most fans in the world in 2023. Counting the number of fans, we have considered the social media fan following of the Bundesliga 2022-2023 season clubs.
Here are the results: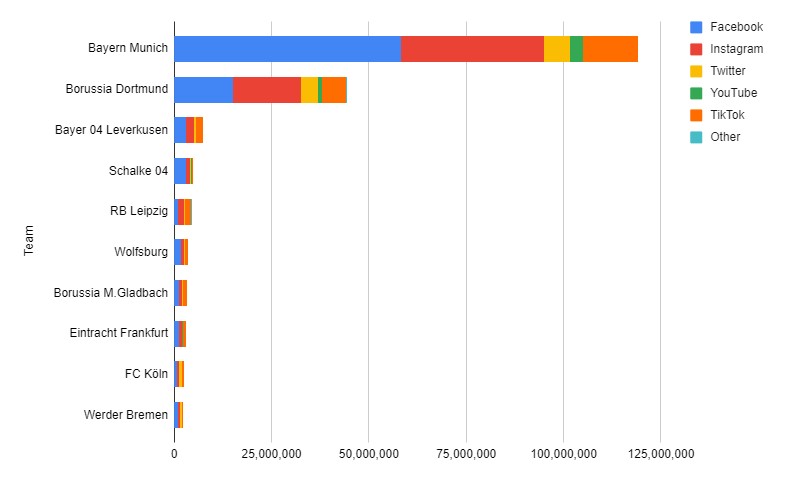 Compared to the 2022 results, some of the teams have changed their positions. Here is the TOP 10 Bundesliga teams by followers: 2022 vs 2023 comparison: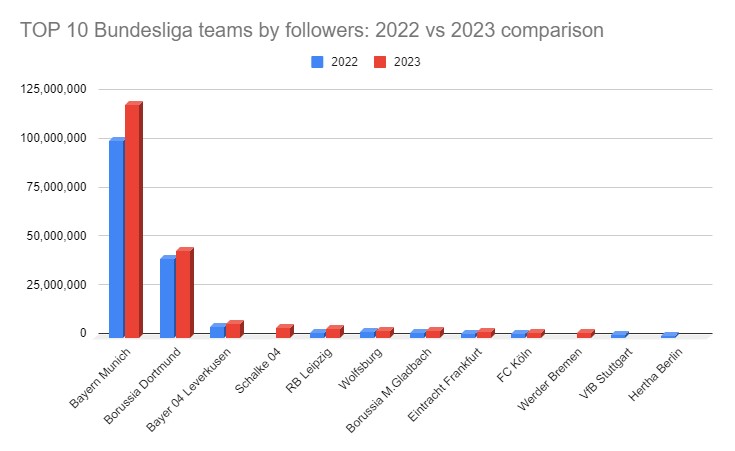 1. Bayern Munich
Facebook: 58,3 M
Instagram: 36,7 M
Twitter: 6,7 M
YouTube: 3,14 M
TikTok: 14,2 M
Other: 122 K
Total: 119,2 M
2. Borussia Dortmund
Facebook: 15,1 M
Instagram: 17,4 M
Twitter: 4,3 M
YouTube: 1,09 M
TikTok: 6,3 M
Other: 55 K
Total: 44,3 M
3. Bayer 04 Leverkusen
Facebook: 2,98 M
Instagram: 2,1 M
Twitter: 449 K
YouTube: 69 K
TikTok: 1,7 M
Others: 11 K
Total: 7,3 M
4. Schalke 04
Facebook: 2,93 M
Instagram: 1,2 M
Twitter: 151 K
YouTube: 189 K
TikTok: 376,4 K
Others: 15,6 K
Total: 4,87 M
5. RB Leipzig
Facebook: 957 K
Instagram: 1,5 M
Twitter: 218 K
YouTube: 70,7 K
TikTok: 1,7 M
Other: 17 K
Total: 4,46 M
6. Wolfsburg
Facebook: 1,88 M
Instagram: 617 K
Twitter: 294 K
YouTube: 61,3 K
TikTok: 766 K
Other: 7 K
Total: 3,68 M
7. Borussia M'gladbach
Facebook: 1,34 M
Instagram: 771 K
Twitter: 180 K
YouTube: 99 K
Other: 14 K
Total: 3,4 M
8. Eintracht Frankfurt
Facebook: 1,16 M
Instagram: 843 K
Twitter: 96,3 K
YouTube: 123 K
TikTok: 793,8 K
Other: 46,6 K
Total: 3,07 M
9. FC Köln
Facebook: 806 K
Instagram: 492 K
Twitter: 654,4 K
YouTube: 86,8 K
TikTok: 534,1 K
Other: 18,4 K
Total: 2,6 M
10. Werder Bremen
Facebook: 1 M
Instagram: 424 K
Twitter: 531,5 K
YouTube: 136 K
TikTok: 148,4 K
Other: 16 K
Total: 2,28 M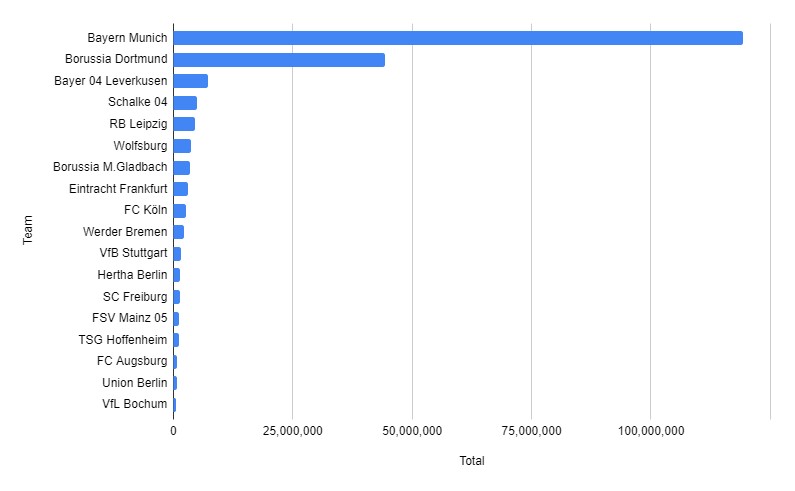 Top 10 Bundesliga Football Clubs with Most Fans in the World in 2023: Total Results
Bundesliga 2022-2023 season all 18 football clubs on social media by followers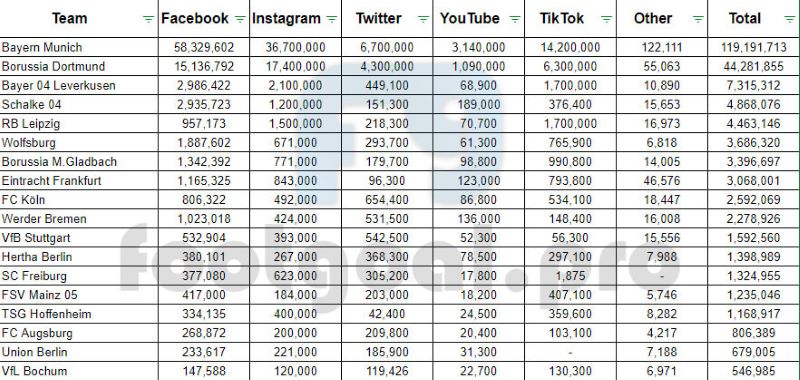 Bayern Munich – 119,2 M
Borussia Dortmund – 44,3 M
Bayer 04 Leverkusen – 7,3 M
Schalke 04 – 4,87 M
RB Leipzig – 4,46 M
Wolfsburg – 3,68 M
Borussia M.Gladbach – 3,4 M
Eintracht Frankfurt – 3,07 M
FC Köln – 2,59 M
Werder Bremen – 2,28 M
VfB Stuttgart – 1,6 M
Hertha Berlin – 1,4 M
SC Freiburg – 1,32 M
FSV Mainz 05 – 1,23 M
TSG Hoffenheim – 1,17 M
FC Augsburg – 806 K
Union Berlin – 679 K
VfL Bochum – 547 K
Check out also:
Top 10 Football Clubs with Most Fans in the World in 2022 (Updated)
Top Champions League 2021-2022 Football Clubs with Most Fans in the World
Top 10 Ligue 1 Football Clubs with Most Fans in the World in 2022
Top 10 La Liga Football Clubs with Most Fans in the World in 2022
Top 10 Serie A Football Clubs with Most Fans in the World in 2022
Top 10 Premier League Football Clubs with Most Fans in the World in 2021
Related posts