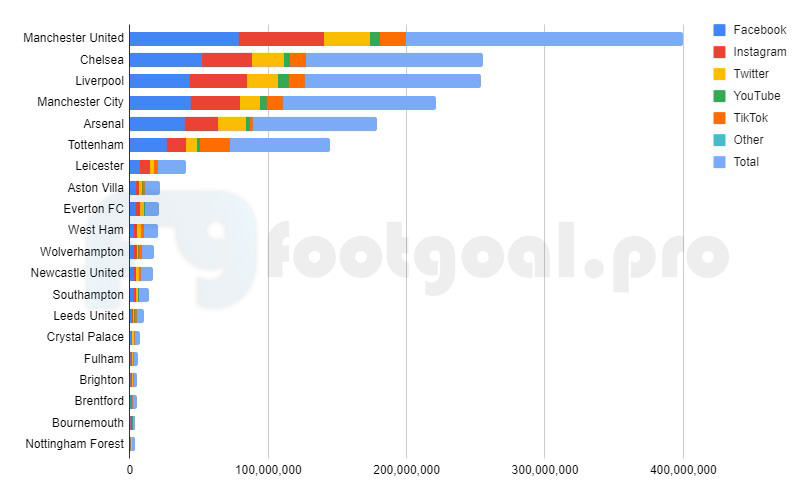 Top 10 Premier League Football Clubs with Most Fans in the World in 2023
Which football club has the most fans in England 2023?
Manchester United: Manchester United are not only the most popular team in England, but they are also the 3rd most followed club in the world.
Premier League is considered the richest and the most watched football league in the world. Millions of fans support it around the world. They show their support also on social media by following different Premier League football clubs.
We are presenting you the Premier League football clubs that are most followed in social media platforms worldwide.
So, which Premier League team has the most followers on social media?
The answer is Manchester United!
Let's have a detailed look at the Premier League football clubs with the most fans in the world in 2023. Counting the number of fans, we have considered the social media fan following of the clubs.
Here are the results: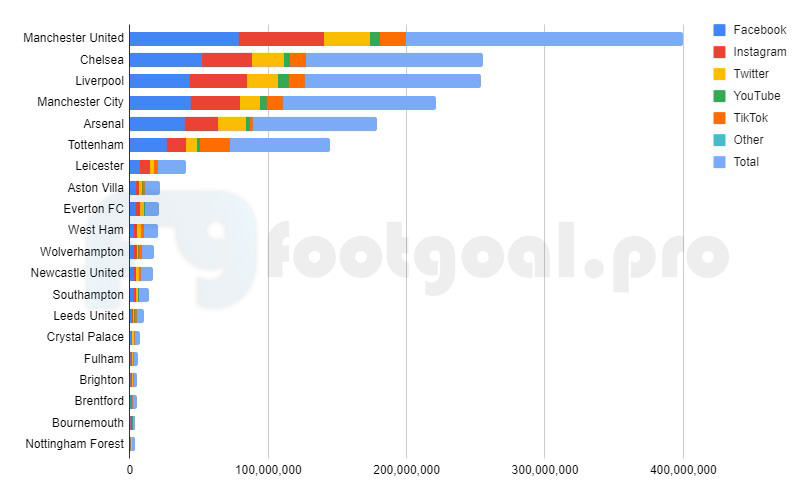 1. Manchester United
Facebook: 78,76 M
Instagram: 61,3 M
Twitter: 33,7 M
YouTube: 6,97 M
TikTok: 18,8 M
Others: 285 K
Total: 199,81 M
2. Chelsea
Facebook: 52,38 M
Instagram: 36,2 M
Twitter: 23,1 M
YouTube: 4,05 M
TikTok: 11,6 M
Others: 177 K
Total: 127,5 M
3. Liverpool
Facebook: 43,73 M
Instagram: 40,9 M
Twitter: 22,7 M
YouTube: 7,86 M
TikTok: 11,6 M
Others: 222 K
Total: 126,82 M
4. Manchester City
Facebook: 44,2 M
Instagram: 35,7 M
Twitter: 14,1 M
YouTube: 5,16 M
TikTok: 11,3 M
Other: 119 K
Total: 110,58 M
5. Arsenal
Facebook: 39,94 M
Instagram: 23,4 M
Twitter: 20,5 M
YouTube: 3,03 M
TikTok: 2,4 M
Other: 56,9 K
Total: 89,33 M
6. Tottenham
Facebook: 26,54 M
Instagram: 13,7 M
Twitter: 8,1 M
YouTube: 2,44 M
TikTok: 21,5 M
Other: 101 K
Total: 72,38 M
7. Leicester
Facebook: 7,52 M
Instagram: 7 M
Twitter: 2,6 M
YouTube: 485 K
TikTok: 2,5 M
Other: 50 K
Total: 20,16 M
8. Aston Villa
Facebook: 4,44 M
Instagram: 2,3 M
Twitter: 2,1 M
YouTube: 311 K
TikTok: 1,8 M
Other: 37,5 K
Total: 10,99 M
9. Everton FC
Facebook: 4,3 M
Instagram: 2,7 M
Twitter: 2,9 M
YouTube: 685 K
Other: 54,7 K
Total: 10,65 M
10. West Ham
Facebook: 3,3 M
Instagram: 2,2 M
Twitter: 2,4 M
YouTube: 377 K
TikTok: 2 M
Other: 51,2 K
Total: 10,33 M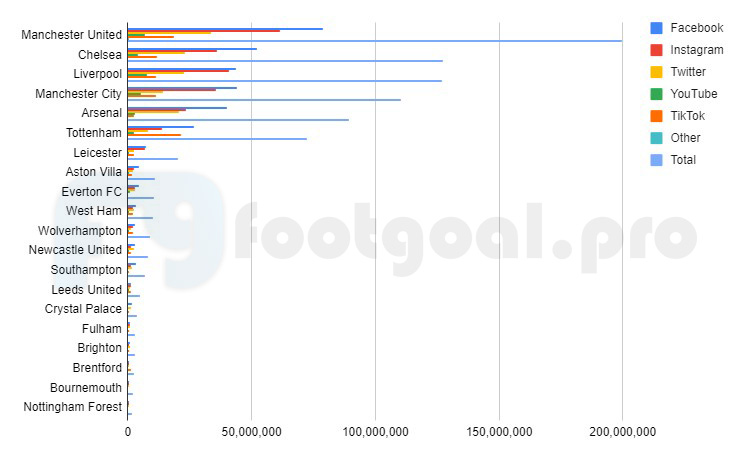 Top 10 Premier League Football Clubs with Most Fans in the World in 2023
: Total Results
Premier League 2022-2023 season all 20 football clubs on social media by followers
Manchester United – 285,000
Liverpool – 222,000
Chelsea – 177,000
Manchester City – 119,000
Tottenham – 101,000
Arsenal – 56,900
Everton FC – 54,700
West Ham – 51,200
Leicester – 50,000
Leeds United – 38,100
Aston Villa – 37,500
Southampton – 37,200
Fulham – 36,200
Brentford – 32,300
Crystal Palace – 31,300
Newcastle United – 30,400
Wolverhampton – 23,200
Nottingham Forest – 23,200
Brighton – 18,800
Bournemouth – 15,600
Check out also:
TOP 10 Richest Football Clubs in the World in 2023 (Updated)
Top 10 Football Clubs with Most Fans in the World in 2022 (Updated)
Top Champions League 2021-2022 Football Clubs with Most Fans in the World
Top 10 Bundesliga Football Clubs with Most Fans in the World in 2022
Top 10 Ligue 1 Football Clubs with Most Fans in the World in 2022
Top 10 La Liga Football Clubs with Most Fans in the World in 2022
Top 10 Serie A Football Clubs with Most Fans in the World in 2022
Related posts