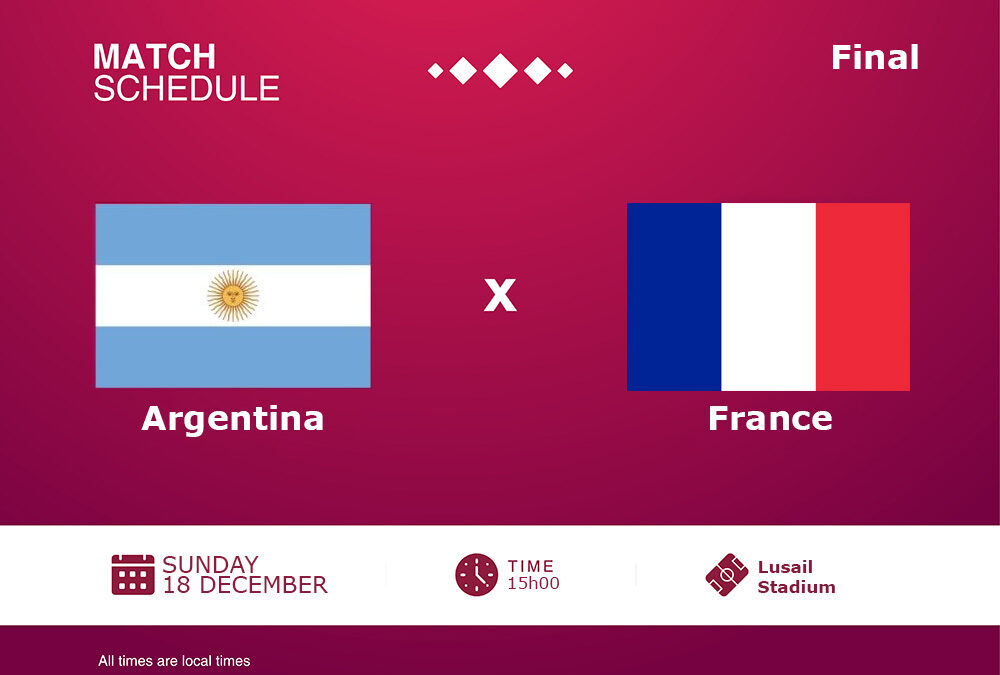 World Cup 2022: Argentina vs France Match Preview: Who will Become the World Cup 3-Time Champions?
The World Cup 2022 is close to end, only 2 matches are left, and the crucial one, the World Cup 2022 Final match between Argentina and France!
Who will become the World Cup 3-time Champions?
Let's have a closer look at the match details!
When and where will the Argentina vs France match be played?
Match: World Cup 2022, Final, Argentina vs France
Location: Lusail, Qatar
Stadium: Lusail Stadium
Date: 18 December, 2022
Kick-off Time: 3 PM GMT
Argentina vs France head to head matches
Argentina: 6 Wins
France: 3 Wins
Draws: 3
Argentina World Cup 2022 Results
Argentina started with a loss against Saudi Arabia. However, topping Group C. To the final they reached by winning Australia, Netherlands, and Croatia in the Play-Offs.
France World Cup 2022 Results
France also were first in the group with 6 points. In the Play-Offs, France beat Poland, England, and Morocco.
World Cup 2022 Argentina vs France: Predictions
On the one side we have Argentina, one of the main favorites of this tournament. Though the opener was shocking for them, they were able to move forward and reach the final, beating Netherlands in Quarter-finals and Poland in the group stage.
On the other side we have France, the current champions and one of the main favorites. France started the tournament quite well and kept the note till the finals, beating top teams like England and the tournament sensations, Morocco.
These 2 teams have met 12 times so far. 6 times Argentina were stronger, 3 times they beat France and 3 matches ended with a draw.
In the World Cups, they met 3 times, 2 wins for Argentina in 1930 and 1978, and the last one was in the World Cup 2018, where France won 4-3 in the Round of 16.
To compare the performances of these 2 teams in the World Cup 2022, both teams have 2 wins and 1 loss. Both beat a strong team: Argentina won Poland, France won Denmark in the Group Stage.
In the Play-Offs, France beat much stronger opponents and much easier.
In Round of 16, Argentina beat Australia, while France beat Poland.
In the Quarter-Finals, Argentina defeated Netherlands only with penalties, while France beat England without much difficulty.
In the Semi-Finals, Argentina beat current World Cup runners-up, Croatia quite easily, while France beat Morocco, a team who conceded only 1 goal (an own goal) till facing France and conceding 2. Morocco was the impassable team of the tournament, yet, France made it to the Finals.
Overall, both teams have strong squads, both teams are in great form, with hunger to win, so, the match is expected to end with a draw.
So, who will become the World Cup 3-time Champions?
Share your thoughts in the comments!
Related posts