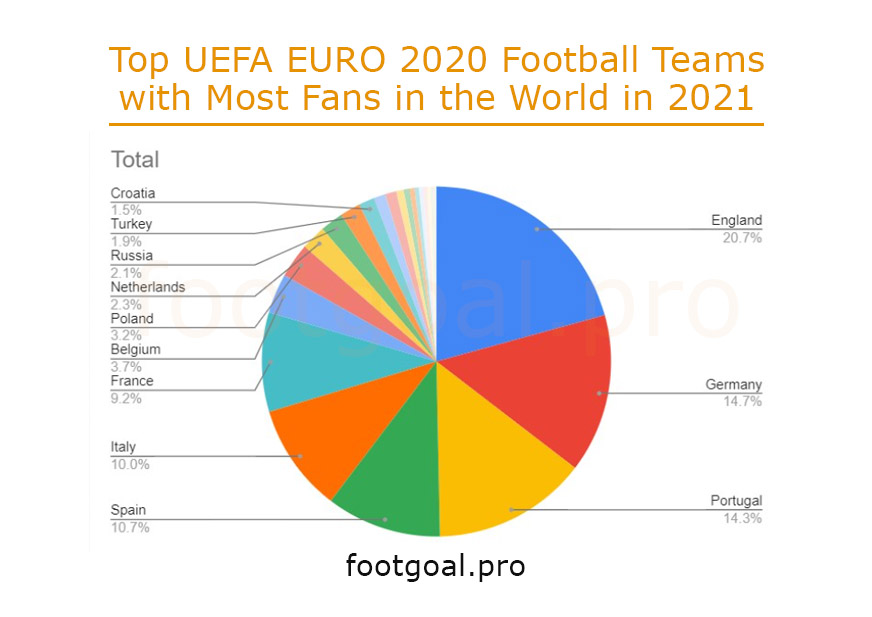 Top UEFA EURO 2020 Football Teams with Most Fans in the World in 2021
Being the most popular sport, football attracts billions of fans around the world. Fans show their support also on social media by following different football clubs and national teams.
We are presenting you the EURO 2020 24 National Teams by social media followers around the world.
So, which EURO 2020 Nation is the number one by followers on social media?
The answer is England National Football Team!
Let's have a detailed look at the EURO 2020 with the most fans in the world in 2021. Counting the number of fans, we have considered their social media official accounts' followers.
Here are the results: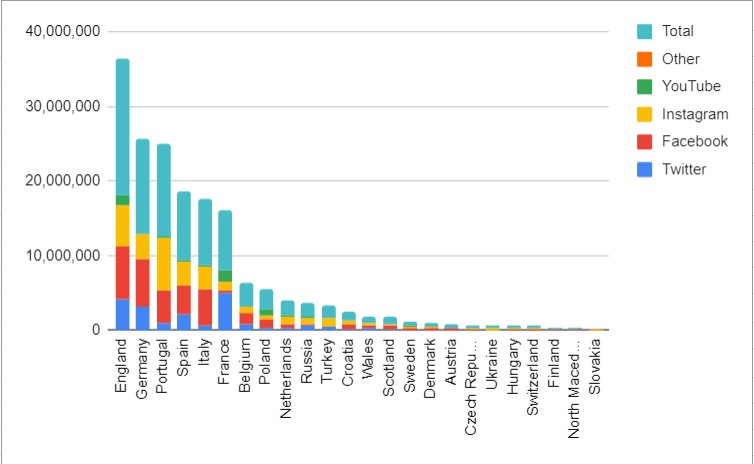 EURO 2020 National Teams by Social Media Followers
The most followed European National Team is England. Englishmen have more than 18 million followers in different social media platforms.
1. England
Twitter: 4.2M
Facebook: 7.11M
Instagram: 5.4M
YouTube: 1.47M
Other: –
Total: 18.18M
2. Germany: World Cup 4-time winners are on the second place. Germans have over 13 million social media followers (5 million less than England).
Twitter: 3.2M
Facebook: 6.36M
Instagram: 3.3M
YouTube: –
Other: –
Total: 12.86M
3. Portugal: The current European Champions are on the third place. Portugal National have 12.5 million fans around the world.
Twitter: 970K
Facebook: 4.36M
Instagram: 7M
YouTube: 192K
Other: –
Total: 12.5M
4. Spain: 3-time European Champions are on the forth place. Spanish National have more than 9.3 million fans worldwide.
Twitter: 2.2M
Facebook: 3.857M
Instagram: 3.1M
YouTube: 187K
Other: –
Total: 9.34M
5. Italy: 4-time World Champions, Italian National are the fifth. Azzurri have more than 8.78 million fans around the world.
Twitter: 722.2K
Facebook: 4.86M
Instagram: 2.9M
YouTube: 300K
Other: –
Total: 8.78M
6. France: World Cup current champions are on the sixth place. France National have more than 8 million followers on social media platforms.
Twitter: 5M
Facebook: 427.5K
Instagram: 1.1M
YouTube: 1.51M
Other: 4.6K
Total: 8.04M
7. Belgium:
Twitter: 878K
Facebook: 1.47M
Instagram: 800K
YouTube: 60.7K
Other: –
Total: 3.2M
8. Poland:
Twitter: 311.7K
Facebook: 1.14M
Instagram: 638K
YouTube: 718K
Other: –
Total: 2.8M
9. Netherlands:
Twitter: 315.6K
Facebook: 496K
Instagram: 1M
YouTube: 195K
Other: –
Total: 2M
10. Russia:
Twitter: 670K
Facebook: 204K
Instagram: 840K
YouTube: 156K
Other: –
Total: 1.87M
11. Turkey:
Twitter: 556.3K
Facebook: 6.7K
Instagram: 1.1M
YouTube: –
Other: –
Total: 1.66M
12. Croatia
Twitter: 221K
Facebook: 578K
Instagram: 469K
YouTube: 23.3K
Other: –
Total: 1.29M
13. Wales
Twitter: 266K
Facebook: 384.7K
Instagram: 288K
YouTube: –
Other: –
Total: 938.8K
14. Scotland
Twitter: 118K
Facebook: 493.8K
Instagram: 235K
YouTube: 55.2K
Other: –
Total: 902K
15. Sweden
Twitter: 15.9K
Facebook: 290.9K
Instagram: 276K
YouTube: 16.2K
Other: 10.7K
Total: 609.7K
16. Denmark
Twitter: 49.8K
Facebook: 216.3K
Instagram: 195K
YouTube: 17.2K
Other: –
Total: 478.3K
17. Austria
Twitter: 49K
Facebook: 241.5K
Instagram: 110K
YouTube: 4.2K
Other: –
Total: 404.8K
18. Czech Republic
Twitter: 38.3K
Facebook: 181.9K
Instagram: 110K
YouTube: 18.9K
Other: –
Total: 349K
19. Ukraine
Twitter: 13K
Facebook: 20K
Instagram: 249K
YouTube: 59.9K
Other: –
Total: 342K
20. Hungary
Twitter: 37.5K
Facebook: 150.2K
Instagram: 71K
YouTube: 56.8K
Other: –
Total: 315.5K
21. Switzerland
Twitter: 264
Facebook: 183.9K
Instagram: 115K
YouTube: 1.7K
Other: –
Total: 300.8K
22. Finland
Twitter: 45.7K
Facebook: 77K
Instagram: 68.4K
YouTube: –
Other: –
Total: 191K
23. North Macedonia
Twitter: 2.9K
Facebook: 108.4K
Instagram: 37.5K
YouTube: –
Other: –
Total: 148.8K
24. Slovakia
Twitter: 7.3K
Facebook: 72K
Instagram: 40.5K
YouTube: 3.4K
Other: 531
Total: 123.6K
Top UEFA EURO 2020 Football Teams with Most Fans in the World in 2021: Total Results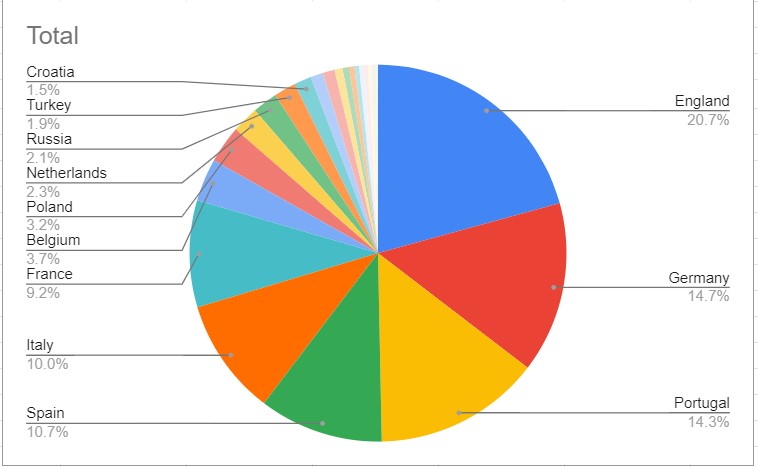 England – 18,18M
Germany – 12,865M
Portugal – 12,524M
Spain – 9,344M
Italy – 8,78M
France – 8,042M
Belgium – 3,213M
Poland – 2,806,500
Netherlands – 2,006,800
Russia – 1,870,420
Turkey – 1,663,000
Croatia – 1,291,900
Wales – 938,800
Scotland – 902K
Sweden – 609,7K
Denmark – 478,3K
Austria – 404,8K
Czech Republic – 349K
Ukraine – 342K
Hungary – 315,5K
Switzerland – 300,8K
Finland – 191K
North Macedonia – 148,8K
Slovakia – 123,6K
Related posts