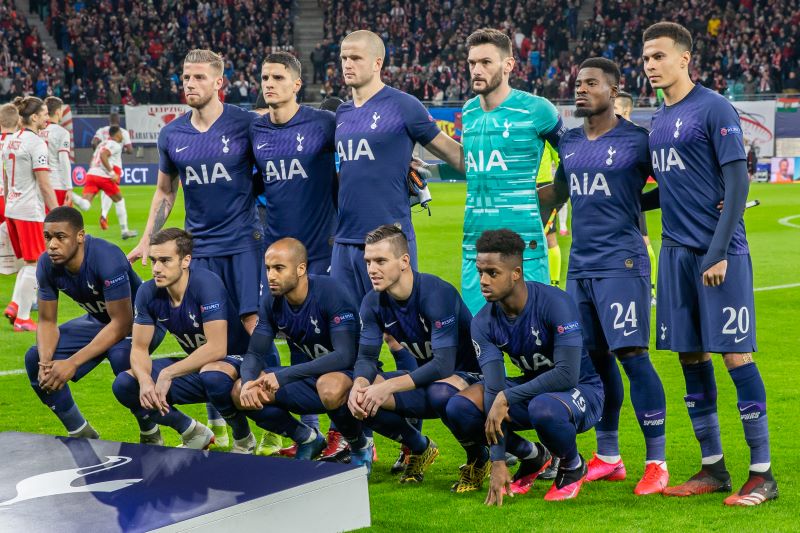 Top 10 Most Famous Tottenham Players of All Time
footgoal, 1 week ago
0
4 min

read
18
Top 10 Most Famous Tottenham Players of All Time
Though one of the most supported football clubs in the world, Tottenham Hotspur has faced its fair share of ups and downs in the Premier League era, the club remains a symbol of North London football pride.
Tottenham has been graced by some of the finest football talents to ever grace the pitch. So, today we'll go through the careers of the top 10 Tottenham legends who left an indelible mark on White Hart Lane.
10. Mike England [1966–1975]
Appearances: 397
Goals: 12
Notable Achievements: PFA Team of the Year in 1974, 1975
Mike England, a commanding center-back, helped Tottenham secure silverware in the '70s. His defensive prowess and contributions in competitions like the UEFA Cup and FA Cup earn him a place among Spurs' legendary defenders.
9. Gary Mabbutt [1982–1998]
Appearances: 616
Goals: 27
Notable Achievements: Football League Cup Young Player of the Year in 1983
Gary Mabbutt's 16-year journey at Spurs as a defender and captain made him an icon. His leadership during the '80s was pivotal to the club's success, and he's celebrated for his unwavering commitment to the Lilywhites.
8. Cyril Knowles [1964–1976]
Appearances: 507
Goals: 17
Notable Achievements: FA Cup in 1967, League Cup in 1971 and 1973
Cyril Knowles, the legendary left-back, was known for his pinpoint crosses and set-piece expertise. A mainstay in the team, he contributed significantly to Tottenham's trophy cabinet during the late '60s and early '70s.
7. Ossie Ardiles
Appearances: 238
Goals: 16
Notable Achievements: FA Cup: 1980–81, 1981–82
Osvaldo Ardiles, the Argentine magician, graced White Hart Lane with flair. His skillful midfield play was crucial in Tottenham's success during the early '80s. A cult hero, Ardiles remains an unforgettable figure in the club's history.
6. Alan Gilzean [1964–1974]
Appearances: 439
Goals: 133
Alan Gilzean, a prolific striker, was a vital part of the 1967 FA Cup-winning team. Known for his partnership with Jimmy Greaves, Gilzean's knack for goal-scoring and unselfish play endeared him to the Spurs faithful.
5. Gary Lineker [1989–1992]
Appearances: 138
Goals: 80
Notable Achievements: FA Cup: 1990–91
Gary Lineker's time at Spurs was short but sweet. His two goals in the 1991 FA Cup semi final against Arsenal are etched in Tottenham folklore. A clinical finisher and an England legend, Lineker is remembered as one of the finest forwards in Spurs' modern history.
4. Gareth Bale [2007-2013, 2020-2021]
Appearances: 237
Goals: 71
Notable Achievements: Football League Cup: 2007–08
Gareth Bale's journey from left-back to world-class attacker symbolizes versatility. His explosive speed and clinical finishing earned him accolades. Bale's return in 2020 rekindled Spurs' hopes, and he remains a fan favorite who left an unforgettable mark in two spells.
3. Son Heung-min [2015- ]
Appearances (up to 2023, September): 377
Goals (up to 2023, September): 148
Notable Achievements: Premier League Player of the Month multiple times
Son Heung-min, the South Korean sensation, has electrified Tottenham with his speed and scoring prowess. His partnership with Kane is the stuff of legends, and he's become one of the most influential players in recent years. Son's legacy at Tottenham is still unfolding, with the promise of more greatness to come.
2. Ledley King [1999–2012]
Appearances: 323
Goals: 14
Notable Achievements: Football League Cup: 2007–08
Ledley King, a Tottenham icon, epitomized class and loyalty. His ability to read the game and composure on the field made him one of the most instinctive defenders. As captain and club stalwart, King led the Spurs into the Champions League and earned the admiration of fans worldwide.
1. Harry Kane [2009-2023]
Appearances: 435
Goals: 280
Harry Kane, a Tottenham youth academy product, embodies dedication to the Lilywhites. Rising through the ranks, Kane became a talismanic figure for Spurs. His goal-scoring skills, leadership, and loyalty make him a contender for the title of the greatest Tottenham player ever.
Conclusion
These Tottenham legends have written their names in the club's annals, each contributing to the rich tapestry of Spurs' history in their unique way. Their skill, dedication, and loyalty have left an indelible mark on the club and continue to inspire both current and future generations of one of the most popular English football clubs, Tottenham fans.
We invite you to share your thoughts and memories about your favorite Tottenham player ever. Who do you think deserves the title of the greatest Tottenham legend? Join the conversation in the comments below and celebrate the rich history of this iconic North London club.
Related posts