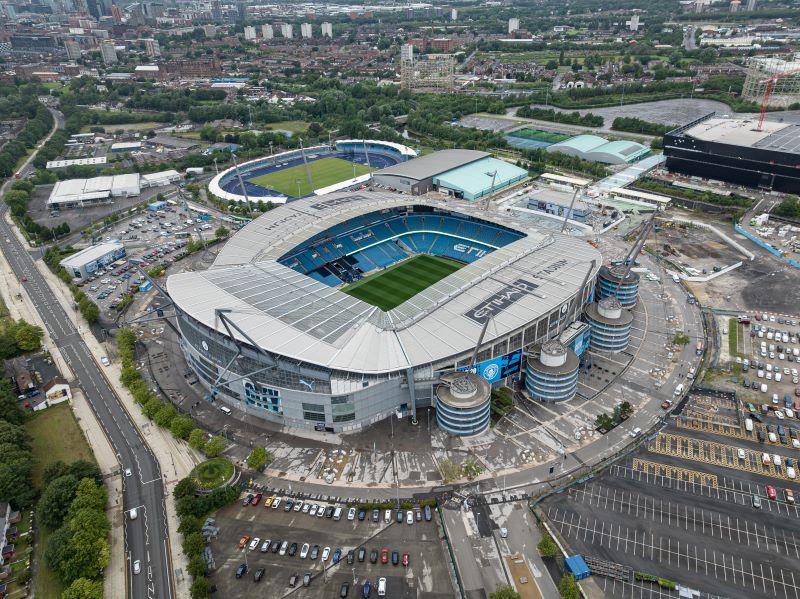 Top 10 Most Famous Manchester City Players of All Time
footgoal, 1 week ago
0
4 min

read
20
Top 10 Most Famous Manchester City Players of All Time
One of the most supported football clubs in the world, Manchester City, a club with a rich history and a passionate fan base, has been home to some of football's most iconic figures. These players have not only achieved greatness while wearing the sky-blue jersey but have also left an enduring legacy in the beautiful game.
Today, we'll list the top 10 most famous Manchester City players of all time. Let's get started!
10. Joe Hart
Appearances: 348
Clean Sheets: 137
Premier League Titles: 2
Joe Hart, the reliable guardian of Manchester City's goalposts for years, holds a special place in the hearts of fans. With over 300 appearances and two Premier League titles, his shot-stopping abilities and leadership qualities were crucial during City's rise to prominence.
9. Mike Summerbee
Appearances: 452
Goals: 68
Mike Summerbee, the wing wizard of his era, graced the City ranks with his skill and creativity. His 452 appearances are a testament to his loyalty, while his 68 goals showcased his attacking prowess. Summerbee played a pivotal role in City's success during the late '60s and early '70s.
8. Francis Lee
Appearances: 330
Goals: 148
Francis Lee, a prolific striker, made waves during his time at Manchester City. His remarkable goal-scoring record, with 112 goals in 249 appearances, helped secure the 1967-68 First Division title. Lee's clinical finishing and leadership qualities left an indelible mark.
7. Colin Bell
Appearances: 498
Goals: 153
Colin Bell, affectionately known as "The King of the Kippax," remains one of City's most beloved figures. His 394 appearances and 117 goals reflect his incredible consistency and impact. Bell's influence in midfield and goal-scoring ability were instrumental in City's success during the late '60s and early '70s.
6. Tony Book
Appearances: 312
Goals: 5
Tony Book, a true club legend, captained Manchester City during one of their most successful periods. His 244 appearances as a defender and leadership on the pitch were invaluable. Book played a pivotal role in guiding the team to multiple trophies during the late '60s and early '70s.
5. David Silva
Appearances: 436
Goals: 77
David Silva, the Spanish maestro, enchanted City fans with his sublime skills and vision. Over 309 appearances, he scored 60 goals and provided 93 assists, becoming a linchpin in City's midfield. Silva's creativity and ability to unlock defenses were crucial in the club's modern era success.
4. Yaya Touré
Appearances: 316
Goals: 79
Yaya Touré, the powerful Ivorian midfielder, redefined the role of a box-to-box player. With 230 appearances and 59 goals, he played a pivotal role in City's Premier League dominance. Touré's ability to dominate midfield, score crucial goals, and drive the team forward made him a true legend.
3. Bert Trautmann
Appearances: 545
Trautmann's remarkable football journey began after his capture during World War II. He went on to play as a goalkeeper for Manchester City, initially facing backlash due to his wartime past. However, his impressive performances, including playing with a broken neck in the 1956 FA Cup final, made him a football legend.
2. Vincent Kompany
Appearances: 360
Goals: 20
Vincent Kompany, the rock at the heart of City's defense, epitomized leadership and commitment. With 265 appearances, he led the club to numerous titles, including four Premier League championships. Kompany's defensive prowess and inspirational captaincy are legendary.
1. Sergio Agüero
Appearances: 390
Goals: 260
Sergio Agüero, known for his lethal finishing, holds the record as City's all-time top scorer. With a staggering 184 goals in 275 appearances, including the iconic last-minute winner against QPR to secure the 2011-12 Premier League title, Agüero's name is etched in City's history as a goal-scoring legend.
Conclusion
These top 10 Manchester City, one of the most supported Premier League football clubs, players have not only achieved individual excellence but have also contributed significantly to the club's rich history. From one of the richest football clubs, Manchester City, goalkeepers to forwards, they've left an indelible mark on the pitch, winning titles, and captivating fans along the way.
Who is your favorite Manchester City player of all time? Join the conversation by commenting below and sharing your cherished moments and memories of these iconic figures who have graced the Etihad Stadium over the years.
Related posts