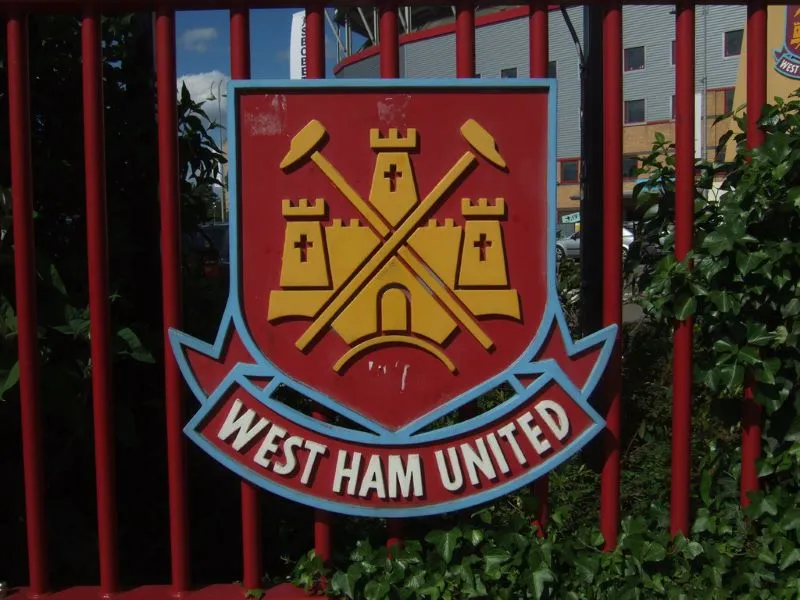 Top 10 Most Famous West Ham Players of All Time
When you think of East London, a few quick things might come to mind: cockney accents, Tom Hardy in the movie Legend, and West Ham United, one of the most popular English football clubs.
Some of football's greatest legends have played for the West Ham Hammers. So, let's have a closer look at the ranking of the 10 greatest West Ham players of all time.
10. Frank Lampard Sr.
Position: Left-Back
Games: 660
Goals: 6
While he is probably known more for his famous football player son of the same name, Frank Lampard sr is a part of West Ham folklore. A member of the team that included Harry Redknapp and Bobby Moore, Lampard played his career as a left-back.
He was known for his hard work over 18 years at West Ham, playing 660 games for his beloved Hammers, and became a much-loved part of the club.
9. Paolo Di Canio
Position: Centre-Forward
Games: 141
Goals: 51
The Rome-born Italian-international forward Paolo Di Canio didn't join West Ham until he was already 31 in 1999, and he was also coming off an 11-match ban for pushing a referee while at Sheffield Wednesday.
A mercurial talent, the forward won over fans with his tricky dribbling and fantastic ball-striking ability, best summarized by his stunning volley against Wimbledon in 2000.
Despite having previously turned down an approach from Manchester United, di Canio joined Charlton in 2004 after West Ham was relegated. In terms of name recognition, he is one of the more famous ex-West Ham players.
8. Joe Cole
Position: Attacking Midfield
Games: 187
Goals: 18
Joe Cole is often cited as the best English player to be produced in England since Duncan Edwards, the Busby Babe who tragically passed away in the Munich Air Disaster in 1958. One of the most technically gifted players ever to come through the West Ham youth ranks, and that's some claim. Cole was tipped for stardom at 13 and duly obliged.
The most prominent teams in England were trying to buy Cole from West Ham while he was still a schoolboy, but the player decided to stay in London and learn his trade in a team that often gave chances to young players.
7. Jermain Defoe
Position: Centre-Forward
Games: 105
Goals: 41
Goalscorers are worth their weight in gold at the top level of football. As defenses get tighter, the margins of success get even smaller, and Jermain Defoe has shown to be deadly in front of goal.
In a career that started at Charlton as a youth player, Defoe moved to West Ham at 16 and has amassed an incredible 624 league games in a 23-year career. A quick finisher that rarely misses the target, Defoe relied on his pace and accuracy rather than physical strength and is regarded as one of the best strikers produced by West Ham.
6. Frank Lampard
Position: Central Midfield
Games: 187
Goals: 38
Frank Lampard forged a career as one of the most complete midfielders of his generation, becoming a three-time Premier League winner with Chelsea and a Champions League to his name.
The son of the legendary West Ham player of the same name, Frank Lampard sr, the young Lampard was often accused of being in the West Ham team thanks to his family name. These accusations were roundly dismissed by his manager (and uncle) Harry Redknapp, who claimed Lampard Jr was the first player at training and the last to leave every evening.
5. Rio Ferdinand
Position: Centre-Back
Games: 159
Goals: 2
Appearing on the scene as a gangly teenager in 1995, Rio Ferdinand would go on to be one of the finest defenders of his generation, winning every domestic trophy around, as well as becoming a Champions League winner, all with Manchester United.
His five years with West Ham quickly showed Ferdinand to be an excellent reader of the game, with a burst of speed that could quickly get him out of trouble. Every big team in Europe soon came calling for the talented defender, and it was to Leeds United that he would eventually be sold in 2000.
4. Martin Peters
Position: Left Midfield
Games: 364
Goals: 100
Martin Peters may not be as well known as Bobby Moore or Geoff Hurst, but he too won a World Cup with England in 1966 and was described by England manager Alf Ramsey as "the complete midfielder".
Peters was so accomplished as a player that he could and literally did, play in every position on the football field, including as a goalkeeper. Feared for his incredible free-kicks, Peters scored a remarkable 178 goals in his career, a career that spanned 24 years, 11 of them with West Ham.
Billy Bonds
Position: Defensive Midfield
Games: 799
Goals: 61
Billy Bonds was not only a player for West Ham for 21 years in a row, but he also went on to manage the club for four seasons after he retired. Early in his career with West Ham, Bonds quickly became an integral player, making 124 consecutive appearances for the club at one stage.
Over his 21 seasons as a player there, Bonds amassed an impressive 663 league appearances for the club. He was with the club for so long that his first and last Hammer of the Year awards came 16 years apart (1971 and 1987).
2. Geoff Hurst
Position: Centre-Forward
Games: 500
Goals: 242
Scoring the winning goal in a World Cup Final gives a player a certain gravitas, but when it's the winning goal in the only World Cup Final England has ever been in, that player achieves cult status. And Sir Geoff Hurst qualifies as a legend for club and country. In his 14 years at West Ham, Hurst scored 242 goals in just 500 first-team appearances, statistics that quickly brought him to the attention of England manager Alf Ramsey.
1. Bobby Moore
Position: Centre-Back
Games: 647
Goals: 27
Bobby Moore, the greatest West Ham player of all time and one of the greatest defenders of all time. Moore was captain of West Ham for over a decade and the only England captain to lift a World Cup in a career spanning two continents and 25 years of football. Admired by men and adored by women, Bobby Moore was the complete defender and captain.
Conclusion
West Ham has a rich history of producing exceptional football talent, and the top 10 players on this list have left an indelible mark on the club's legacy. From the legendary Bobby Moore to the prolific goal-scorer Geoff Hurst, these players have not only contributed to West Ham's success but have also made significant impacts on the global football stage. As we celebrate these Hammers heroes, we can't help but wonder who the next generation of West Ham stars will be. Who will carry the torch and continue to write the club's history? Only time will tell, but one thing is certain: the legacy of these top 10 West Ham players will live on in the hearts of fans forever.
Related posts