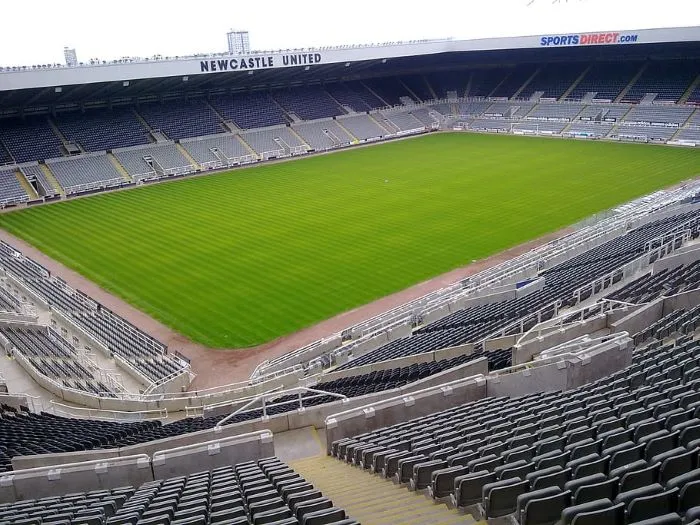 The Premier League Newcastle United Stadium, St James' Park
footgoal, 1 month ago
0
4 min

read
45
The Premier League Newcastle United Stadium, St James' Park
Name: St James' Park
Location: Newcastle upon Tyne NE1 4ST
Owner: Newcastle United
Capacity: 52,305
Opened: 1892
Expanded: 1998–2000
St James' Park, located in Newcastle upon Tyne, England, is a historic landmark that has played an integral role in the city's identity. Home to one of the most followed Premier League football clubs on social media, Newcastle United Football Club, this iconic stadium has a seating capacity of 52,305 seats, making it the eighth-largest football stadium in England.
St James' Park has a rich history, filled with triumphs, controversies, and memorable moments that have left an indelible mark on both sports enthusiasts and the local community.
St James' Park History
St James' Park's history is intertwined with the evolution of football in Newcastle. Originally, the site was a patch of sloping grazing land, bordered by Georgian Leazes Terrace and near the historic Town Moor.
The first football team to grace St James' Park was Newcastle Rangers in 1880. They moved temporarily to another location in 1882 before returning briefly in 1884. Ultimately, it was Newcastle West End who took over the ground in 1886.
However, in 1892, West End was wound up, and their lease on St James' Park was assumed by their rivals, Newcastle East End, who later became Newcastle United. On September 3, 1892, Newcastle East End played their first game at St James' Park.
From its modest beginnings, the stadium gradually expanded, with redevelopments in the late 1800s increasing its official capacity to 30,000, primarily for standing spectators.
The team actually played in red and white at St James' Park until 1904. In 1905, the stadium underwent a significant transformation, doubling its capacity to 60,000 and adding state-of-the-art facilities, including a swimming pool.
Middle Years of the Stadium
Between 1920 and 1930, notable football architect Archibald Leitch designed plans for a double-tiered stand. However, these plans were never fully realized, and only a small roof over the Leazes Terrace side, now known as the Sir John Hall Stand, was constructed. The 1950s saw the installation of floodlights, with the first match under their glow played against Celtic in 1953.
The 1960s brought planning difficulties that hindered the stadium's development. Newcastle United's hopes of hosting a group stage of the 1966 World Cup were dashed due to political disputes linked to the stadium's lack of development.
In 1978, the Leazes End was demolished, but financial difficulties prevented the construction of a new stand. The stadium faced more challenges during this era but was set to change dramatically under new ownership.
Renovations of the Stadium
In 1992, businessman Sir John Hall took the reins at the Premier League club, Newcastle United. Under his leadership, significant investments were made in the stadium. The Leazes End, previously demolished and not replaced, was rebuilt as the Sir John Hall stand in time for Newcastle's debut season in the Premiership in 1993.
The Gallowgate End underwent redevelopment, and modifications were made to the Milburn Stand. The stadium's pitch, drainage, and floodlights were also upgraded. By 1995, St James' Park's capacity had increased to 36,610 with seating for the majority of spectators.
As it became clear that the proposal wouldn't receive planning permission without a prolonged public inquiry, the club opted to expand the existing St James' Park instead, leaving Leazes Park untouched. This decision marked a turning point in the stadium's history.
In 1997, Sir John Hall stepped down as chairman, and Freddy Shepherd took the helm. Expansion remained a priority, with plans to increase the stadium's capacity beyond 52,000 and it was completed in July 2000 at a cost of £42 million, pushing the capacity to approximately 52,143.
Under owner Mike Ashley, the stadium was renamed St James' Park after being referred to as the "Sports Direct Arena" for a brief period in 2011, which caused uproar among fans. This change was seen as a commercial move, and the original name was eventually reinstated.
Conclusion
St. James' Park is like a symbol of how much people in Newcastle love football. It started as just a field for animals to eat, and now it's a famous stadium. It's been through problems, got bigger, and had different owners, but it's always been important to the city. As Newcastle United keeps trying to do well in football, St. James' Park will stay a big part of the club's future and the city's history.
Related posts