Neymar: Profile
Neymar
??  PSG
Birth Date: 05/02/1992
Age: 28
Nationality:  ?? Brazil
Height:   175 cm
Weight:   68 kg
Position: Forward, Left Winger
Shirt Number: 10
Neymar plays for French PSG since 2017 and for the Brazil national team since 2010.
Neymar is considered one of the best players in the world. He began his football career playing for Brazilian Santos.
In 2013, he joined Barcelona. With the Spanish club, he won the Champions League and FIFA Club World Cup once, 2 times won La Liga, Copa del Rey for 3 times, and Supercopa de España once.
In 2017, Neymar joined PSG for €222 million. In 3 seasons for PSG, Neymar won Ligue 1 for 3 times, Coupe de France and Coupe de la Ligue twice, and Trophée des Champions once.
Currently, Neymar is the most searched football player on Google. On average, 6,420,000 times per month people search for "Neymar" on Google.
Learn more Neymar news here.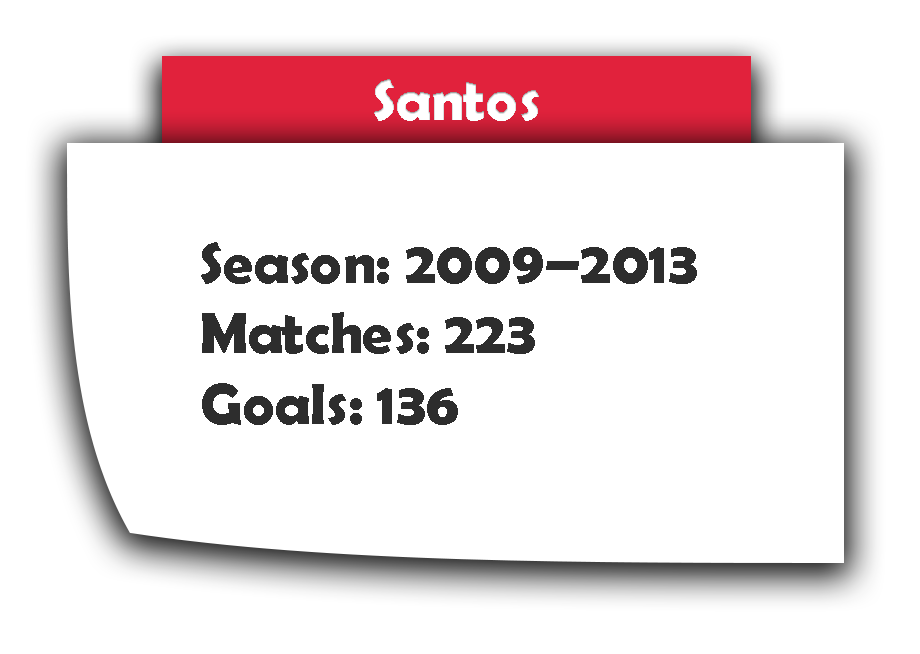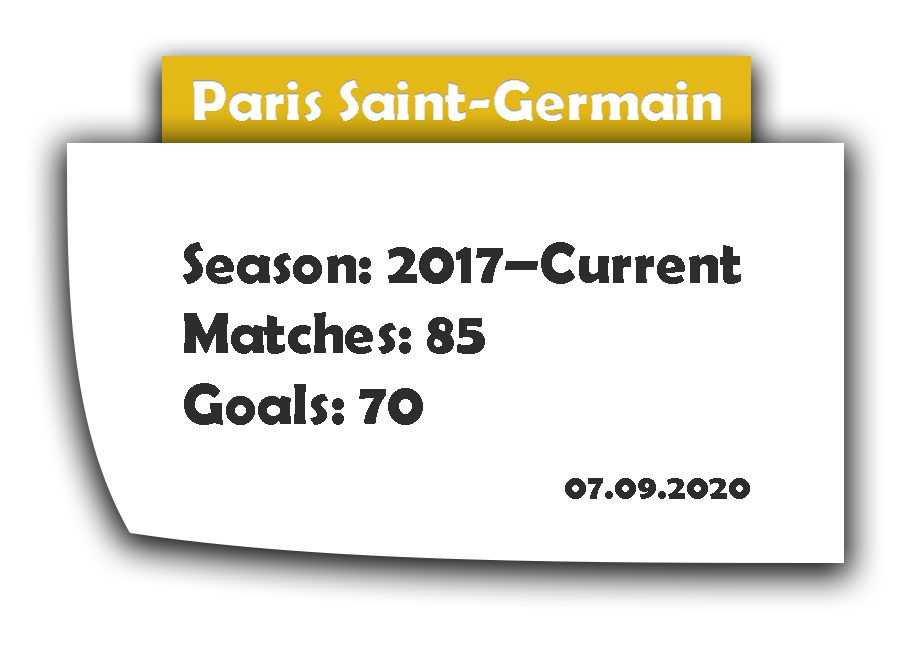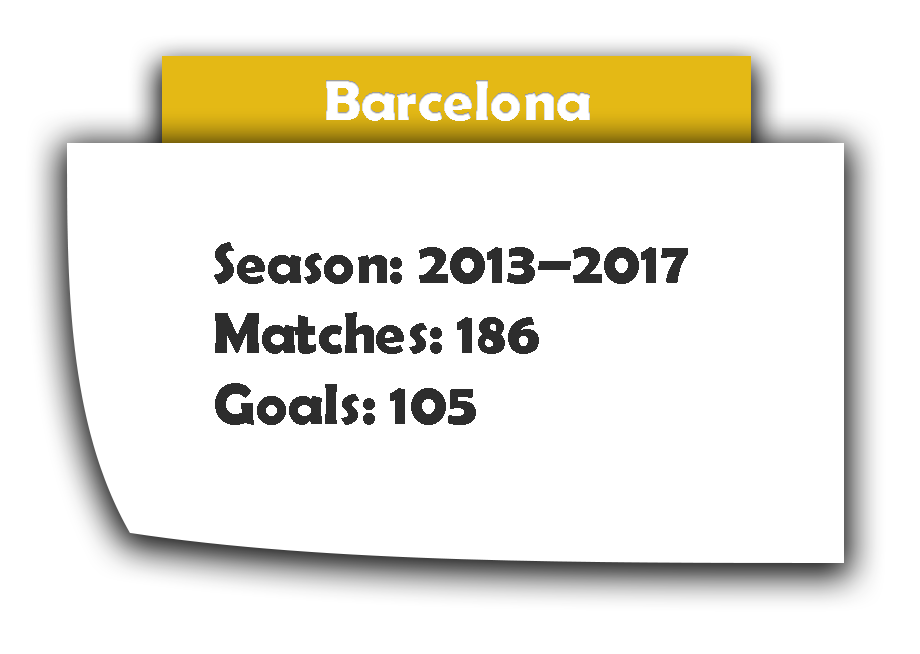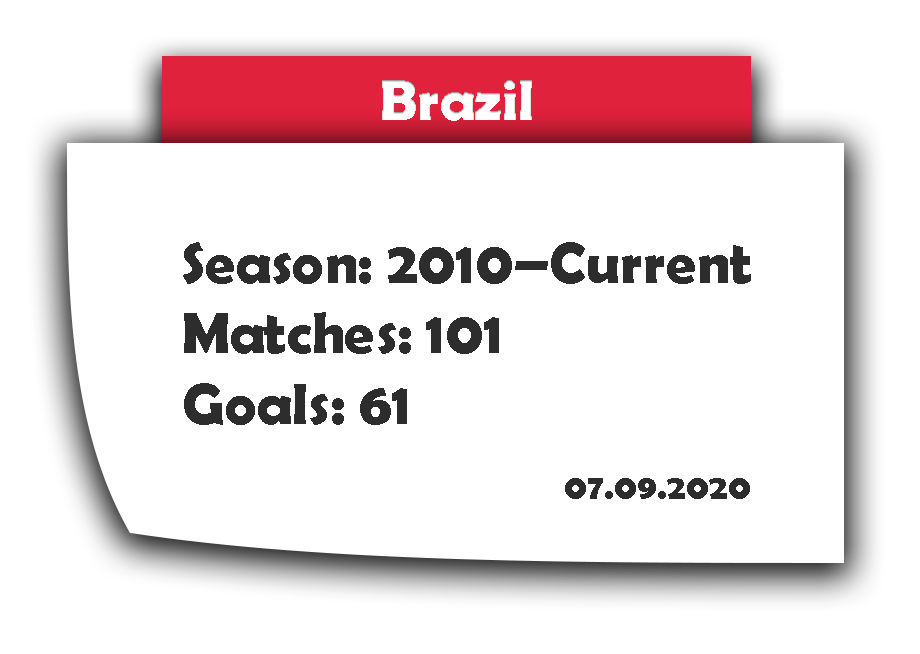 Campeonato Paulista: 2010, 2011, 2012
Copa do Brasil: 2010
Copa Libertadores: 2011
Recopa Sudamericana: 2012
La Liga: 2014–2015, 2015–2016
Copa del Rey: 2014–2015, 2015–2016, 2016–2017
Supercopa de España: 2013
UEFA Champions League: 2014–2015
FIFA Club World Cup: 2015
Paris Saint-Germain (France)
Ligue 1: 2017–2018, 2018–2019, 2019–2020
Coupe de France: 2017–2018, 2019–2020
Coupe de la Ligue: 2017–2018, 2019–2020
Trophée des Champions: 2018
UEFA Champions League runner-up: 2019–2020
FIFA Confederations Cup: 2013
Campeonato Brasileiro Série A Team of the Year: 2010, 2011, 2012
Chuteira de Ouro: 2010, 2011, 2012
Bola de Prata: 2010, 2011
Bola de Ouro: 2011
Campeonato Brasileiro Série A Best Player: 2011
World Soccer Young Player of the Year: 2011
Copa Libertadores Most Valuable Player: 2011
FIFA Club World Cup Bronze Ball: 2011
South American Footballer of the Year: 2011, 2012
FIFA Puskás Award: 2011
Bola de Ouro Hors Concours: 2012
FIFA Confederations Cup Golden Ball: 2013
FIFA Confederations Cup Bronze Shoe: 2013
FIFA Confederations Cup Dream Team: 2013
FIFA World Cup Bronze Boot: 2014

UEFA Champions League Squad of the Season: 2014–2015, 2019–2020
FIFA World Cup Dream Team: 2014
Samba Gold: 2014, 2015, 2017
La Liga Best World Player: 2014–2015
La Liga Player of the Month: November 2015
UNFP Ligue 1 Player of the Year: 2017–2018
UNFP Ligue 1 Team of the Year: 2017–2018, 2018–2019
UNFP Ligue 1 Player of the Month: December 2017, January 2020
UEFA Team of the Year: 2015
FIFA FIFPro World11: 2015, 2017
FIFA FIFPro World11 2nd team: 2013, 2014, 2016, 2018
FIFA FIFPro World11 nominee: 2019 (6th forward)
IFFHS World's Best Playmaker Bronze award: 2017
IFFHS Men's World Team: 2017
"There is no pressure when you are making a dream come true."
"This moment, which we are living right now will pass too. We have to enjoy, enjoy all that we can."
"I just want to be better every day, to get better every day, not to be better than anyone else."
"I have both Messi and Cristiano Ronaldo as my idols. If I can take a little of each player's game and make it my own, I would be very happy."
"All that matters is to help the team."
"No one can compare to Ronaldinho. I remember his play, his dribbles. I remember him winning every title at the Camp Nou. He made history at Barca, he made history with Brazil and he's still making history."
"Winning the Ballon d'Or is the consequence of your work."
"I have to enjoy every moment."
"I like to watch good football so I like to watch good players."
[fts_youtube vid_count=6 large_vid=yes large_vid_title=no large_vid_description=no thumbs_play_in_iframe=yes vids_in_row=3 omit_first_thumbnail=no space_between_videos=10px force_columns=no maxres_thumbnail_images=yes thumbs_wrap_color=#ffffff username=neymarjr]