---
🇪🇸 Barcelona
Birth Date: 24/06/1987
Age: 33
Nationality: 🇦🇷 Argentina
Lionel Messi Height:  170 cm
Weight:  72 kg
Position: Forward, Right Winger
Shirt Number: 10
Lionel Messi Salary: 26 million GBP
Official Website: messi.com

Lionel Messi plays for Barcelona and captains the Argentina National team.
Lionel Messi is considered one of the best footballers in football history. He has won 6 Ballons d'Or and six European Golden Shoes.
Messi started his football career pin Barcelona, debuting in the team at 17 in October 2004. In Barcelona, Messi won the La Liga for 10 times, won the Copa del Rey for 6 times, and Supercopa de España for 7 times.
In European area, Messi won the Champions League title for 4, the UEFA Super Cup for 3 and the FIFA Club World Cup for 3 times.
At National level, Lionel Messi won the 2008 Summer Olympics with Argentina Olympic team.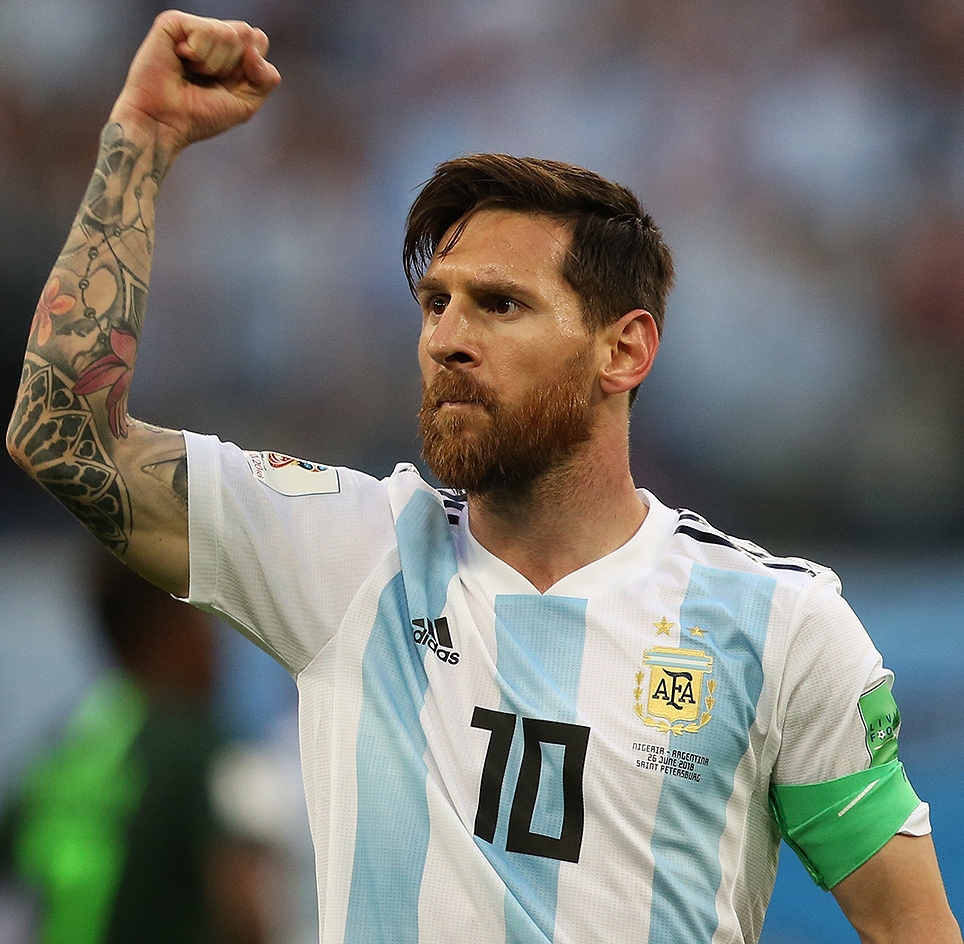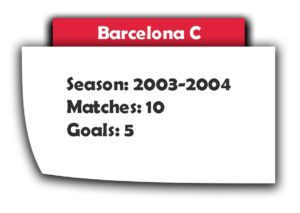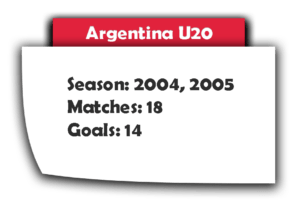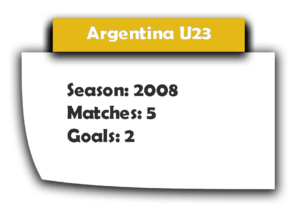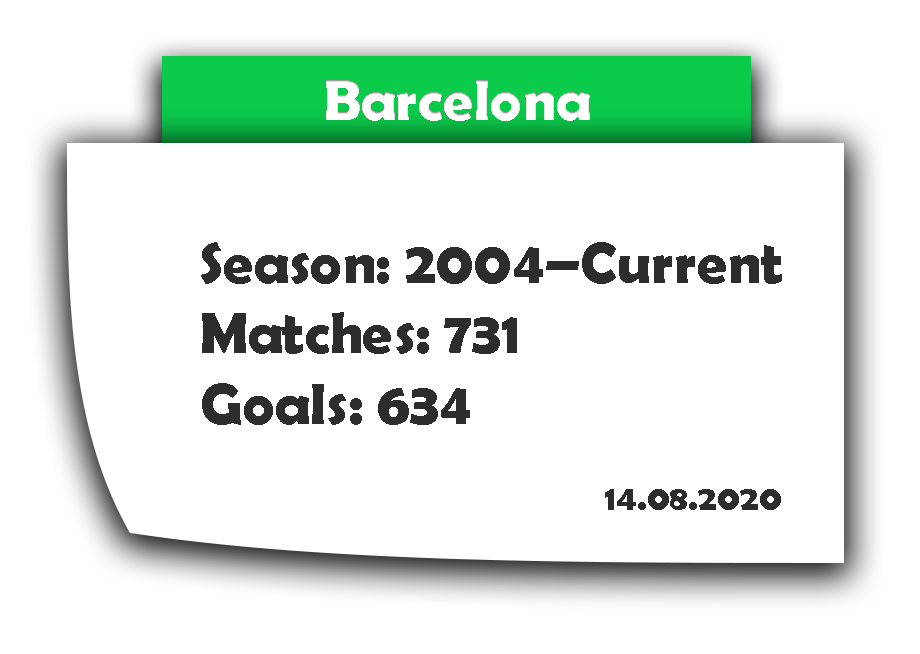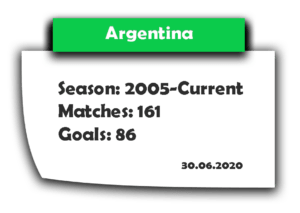 Barcelona (Spain)
La Liga:  2004–2005, 2005–2006, 2008–2009, 2009–2010, 2010–2011, 2012–2013, 2014–2015, 2015–2016, 2017–2018, 2018–2019
Copa del Rey:  2008–2009, 2011–2012, 2014–2015, 2015–2016, 2016–2017, 2017–2018
Supercopa de España:  2005, 2006, 2009, 2010, 2011, 2013, 2016, 2018
UEFA Champions League:  2005–2006, 2008–2009, 2010–2011, 2014–2015
UEFA Super Cup:  2009, 2011, 2015
FIFA Club World Cup:  2009, 2011, 2015
Argentina U20
FIFA U-20 World Cup: 2005
Argentina U23
FIFA Ballon d'Or/Ballon d'Or:  2009, 2010, 2011, 2012, 2015, 2019
FIFA World Cup Golden Ball:  2014
FIFA World Player of the Year:  2009
The Best FIFA Men's Player:  2019
European Golden Shoe:  2009–2010, 2011–2012, 2012–2013, 2016–2017, 2017–2018, 2018–2019
Copa América Golden Ball:  2015
UEFA Men's Player of the Year Award:  2011, 2015
UEFA Club Footballer of the Year:  2009
UEFA Club Forward of the Year:  2009, 2019
La Liga Best Player:  2008–2009, 2009–2010, 2010–2011, 2011–2012, 2012–2013, 2014–2015
La Liga Best Forward: 2008–2009, 2009–2010, 2010–2011, 2011–2012, 2012–2013, 2014–2015, 2015–2016
Pichichi Trophy: 2009–10, 2011–12, 2012–13, 2016–17, 2017–18, 2018–19
FIFA Club World Cup Golden Ball: 2009, 2011
FIFA Club World Cup Silver Ball: 2015

FIFA World Youth Championship Golden Shoe: 2005
FIFA Club World Cup Final Most Valuable Player: 2009, 2011
FIFA World Youth Championship Golden Ball: 2005
IFFHS World's Best Playmaker: 2015, 2016, 2017, 2019
Olimpia de Plata (Argentine Footballer of the Year): 2005, 2007, 2008, 2009, 2010, 2011, 2012, 2013, 2015, 2016, 2017
Copa América Best Young Player: 2007
FIFPro Young World Player of the Year: 2006, 2007, 2008
Golden Boy (Young European Footballer of the Year): 2005
FIFA FIFPro World11: 2007, 2008, 2009, 2010, 2011, 2012, 2013, 2014, 2015, 2016, 2017, 2018, 2019
UEFA Team of the Year: 2008, 2009, 2010, 2011, 2012, 2014, 2015, 2016, 2017, 2018, 2019
La Liga Team of the Season: 2014–2015, 2015–2016
FIFA World Cup Dream Team: 2014
Copa América Dream Team: 2007, 2011, 2015, 2016
Laureus World Sportsman of the Year: 2020
L'Équipe Champion of Champions: 2011

"Sometimes you have to accept you can't win all the time."
"You have to fight to reach your dream. You have to sacrifice and work hard for it."
"My ambition is always to get better and better."
"I do it because I love it and that's all I care about."
"The best decisions aren't made with your mind, but with your instinct."
"Goals are only important if they win games."
"It took me 17 years and 114 days to become an overnight success."
"There are more important things in life than winning or losing a game."
"I like to score goals but I also like to have friends among the people I have played with."
"I don't know, I've liked football since I was a kid and I've always dreamt of becoming a professional footballer, I never thought of any other job."
[fts_youtube vid_count=6 large_vid=yes large_vid_title=no large_vid_description=no thumbs_play_in_iframe=yes vids_in_row=3 omit_first_thumbnail=no space_between_videos=10px force_columns=no maxres_thumbnail_images=yes thumbs_wrap_color=#ffffff username=leomessi]